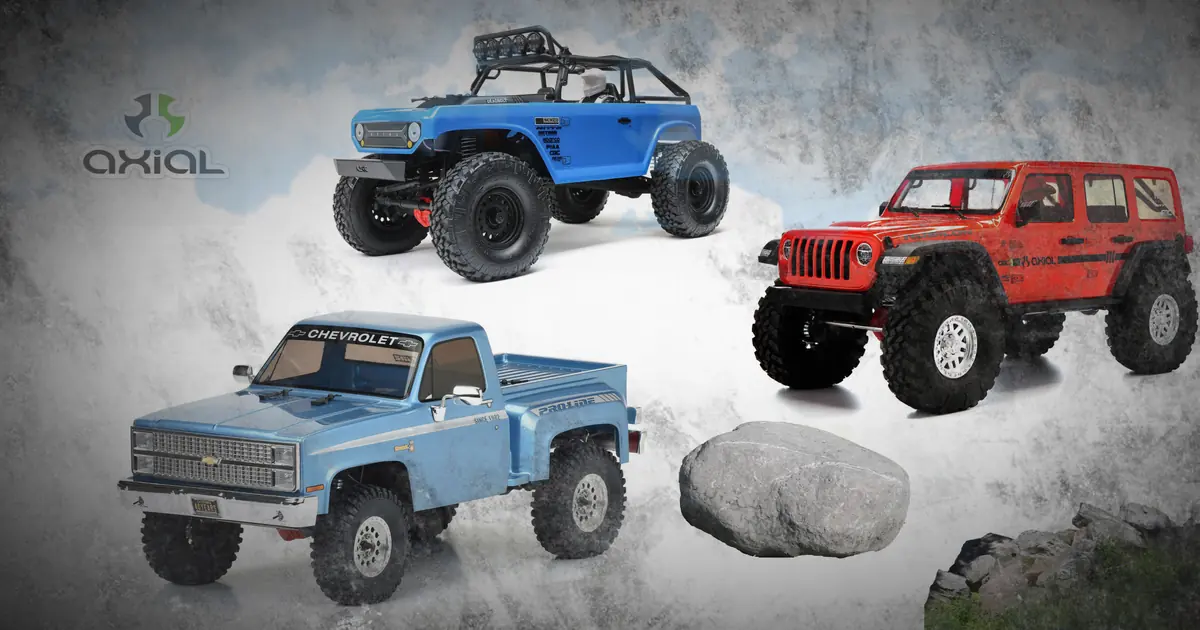 2/4/2023 | By: RC Soldier
Axial SCX10 II and III | A Full Review of Each Model
RC crawling has kind of taken the RC world by storm lately, and Axial has made it their business to lead the charge. The SCX10 is quite possible Axial's most popular model, combining looks, performance, precision, and rugged toughness to ride its way to the top.
But is it really all that? Well… YES.
The Axial SCX10 has proven itself through each model iteration, and will probably remain a top-dog in the world of RC crawling for some time to come.
We have found that Axial in general has excellent availability for high-performance upgrades and top-notch features, another reason the SCX10 is the perfect choice for anyone looking to get into RC crawling.
The smart folks at Axial have figured out the perfect balance by adding stiffness to the frame and offering a great brushed ESC and motor combo out of the box. Wait a minute, you say. Who the heck wants a brushed ESC or motor these days? Well, if you're into rock crawling then you probably know the answer to that.
It's a common thought amongst RC crawling enthusiasts that brushed ESC and motor combos offer better low RPM control, which is an obvious plus for the task of slowly crawling up rocks. If you're interested in learning a little more about this, check out our write-up on electronic speed controls.
We'll be going over each of the current SCX10 models available, and explaining their strengths and weaknesses, and where you can find one at the best price.
The original SCX10 is considered obsolete and can no longer be found in stores. So, we won't bother including it on the list.
But before we dive into the details, let's check out a video of the newest SCX10 III tearing up some rocks!
Video of the Axial SCX10 III on the Rocks
Axial SCX10 Models Currently Available
Axial SCX10 II Deadbolt - $339.99
Axial SCX10 III - $499.99
Axial SCX10 III Pro-Line - $599.99
Price: $339.99
RTR out of the box, battery and charger sold separately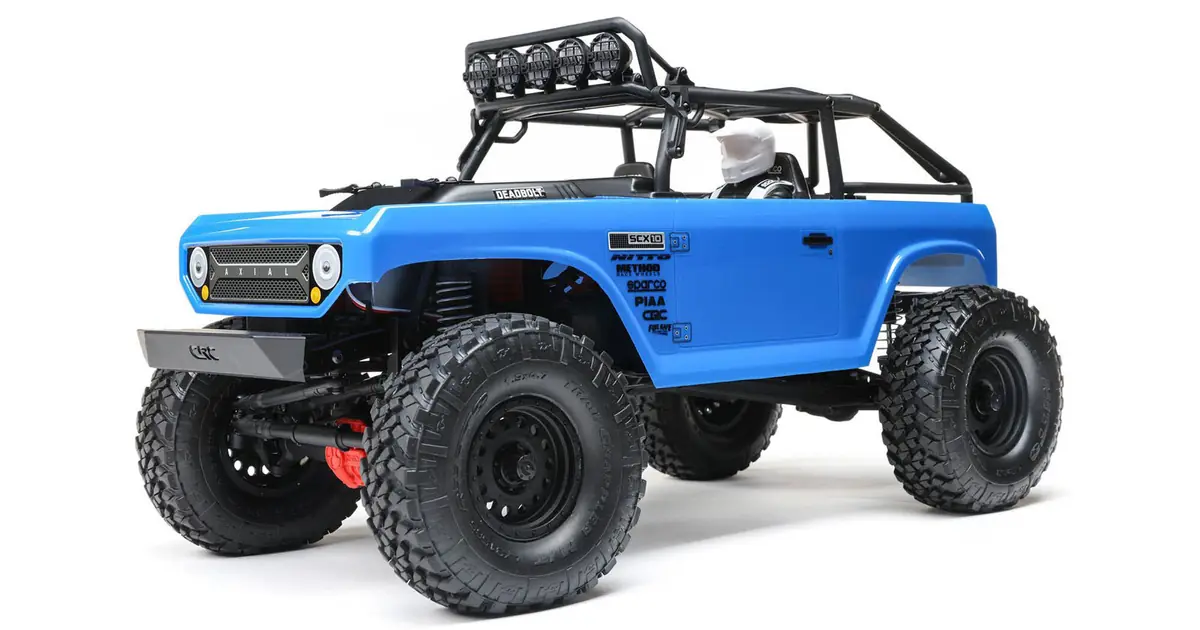 Built with a realistic and durable steel C-channel chassis, the SCX10 II is reinforced with cross braces for added rigidity and strength. The chassis upgrade was probably the best and most notable upgrade on this model. The single-piece AR44 front and rear axles with molded truss offer extreme durability, so you can crawl with confidence that parts are ready for some serious stress.
The LCX AX10 transmission is equipped with adjustable gearing ratios, allowing you to switch between high speed or competition-level crawling speeds. The optimized gear ratio of 3.75 reduces torque twist, providing a smoothness consistency while crawling.
The SCX II comes with the following peripheral components:
Spektrum™ SLT2 2.4GHz Radio System
Dynamite® 35-Turn 540 Brushed Motor
Spektrum 40A Brushed ESC with IC3® Connector
Spektrum SLR300 3-Channel SLT™ FHSS 2.4GHz Receiver
Spektrum S614 Waterproof Metal Gear Surface Servo, 23T
Not a bad RTR crawling setup at all. However, the speed control and motor could definitely use an upgrade. When it comes to performance crawlers, we always suggest the Firma 70A Brushed Smart ESC and Motor combo ($77.99). It's simply the best low RPM control you're going to get at well under $100 bucks.
A lot of guys nowadays feel the stock SCX10 II axles and shocks are no good, I most refuse to even consider using them after using the SCX10 III.
The SCX III has some notable upgrades, and if you plan on taking crawling a little more seriously, you might want to consider the III over the II.
See the Axial SCX10 II Deadbolt
Price: $499.99
RTR out of the box, battery and charger sold separately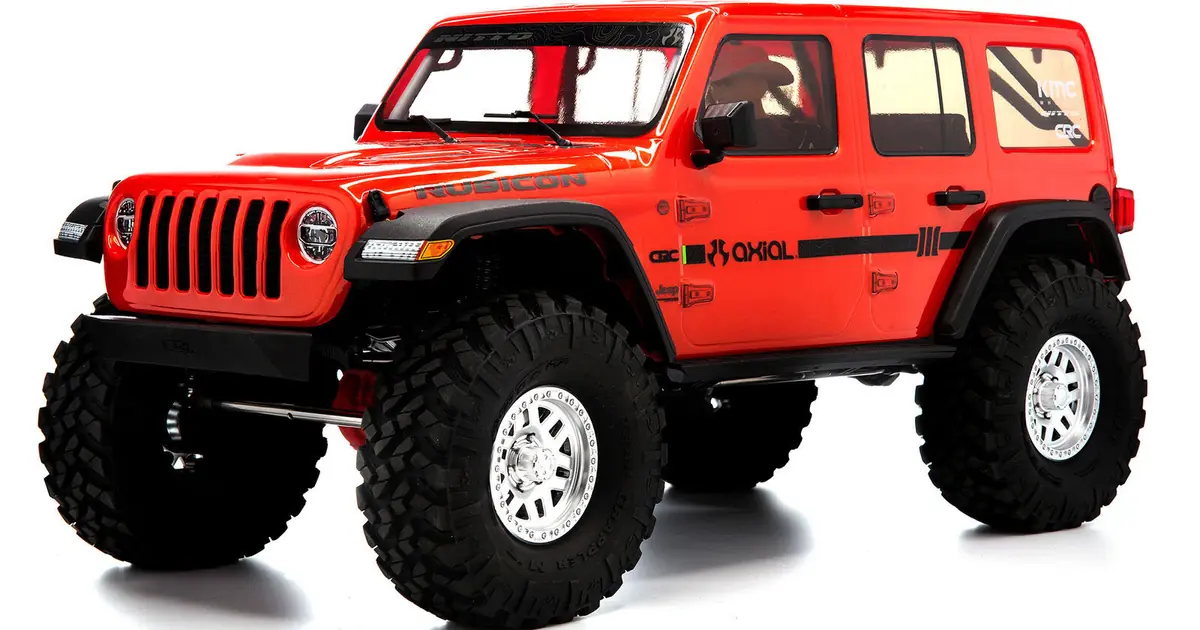 The first thing you'll notice about the Axial SCX III is the price. At $499.99, it's definitely in a price bracket most guys into crawling aren't used to seeing. Nonetheless, it's worth it. I say that with confidence because after testing this crawler and assessing the included components, it's easy to see that the price tag matches the quality.
This thing comes with upgraded AR45 Port axles, Wild Boar universal driveshafts, aluminum shocks, and steal rings/pinion/gears/locker. It comes with one of the best brushed ESCs money can buy, an excellent chassis built with stiffness and durability in mind, and honestly the list just goes on. You'll have to drive the SCX10 III yourself
to really get a feel. There's so many intangibles about why this is the best crawler out there.
The Axial SCX III comes with some much need electronics and suspension upgrades:
DIG function lets you lock the rear axle from the transmitter for front wheel drive and a tighter turning radius
Spektrum™ DX3™ 2.4GHz DSMR® radio offers superior range, response, and interference resistance and is Smart technology compatible
Spektrum RC Firma 40 Amp Brushed Smart 2-in-1 ESC & Receiver
Axial 35T Brushed Electric Motor
See the Axial SCX10 III Crawler
Price: $599.99
RTR out of the box, battery and charger sold separately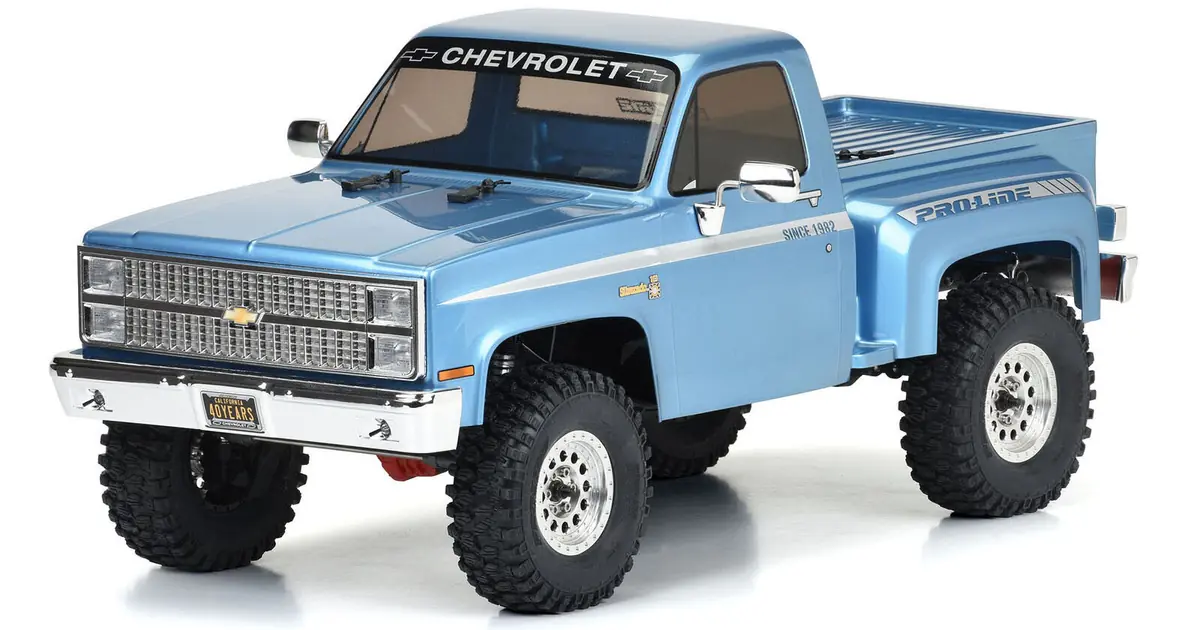 The Axial SCX10 III Pro-Line is essentially the same crawler is the standard SCX10, but with all the awesome Pro-Line upgrades we know and love. For that reason, we won't go into detail with the SCX10 Pro-Line, and instead, we'll just list the Pro-Line upgrades that come included with this crawler out of the box.
Also, according to Axial, only 1,982 of the Pro-Line SCX10 III will ever be produced. So, if you're interested in an authentic piece of RC crawler history, this is a great addition to your collection.
SCX10 III Pro-Line Upgrades
Pro-Line 1982 Chevy K10 body (Limited edition) has a molded grille, front and rear bumpers, brake lights, and 2-piece side-mirrors
Pro-Line Hyrax G8 Class 1 tires with detailed sidewalls for excellent grip on all terrains
Pro-Line Rock Shooter 3-piece bead-lock aluminum/composite wheels for better strength and scale realism
See the Axial SCX10 III Pro-Line
---
Hopefully you found this article helpful! If you'd like to know more about RC Cars, RC Boats, or Drones, check out our blog, or utilize the search feature at the top of the window.

This post may contain products from our affiliates, and we'll be compensated if you buy after clicking a link. It's how we grow our business and offer you great content!