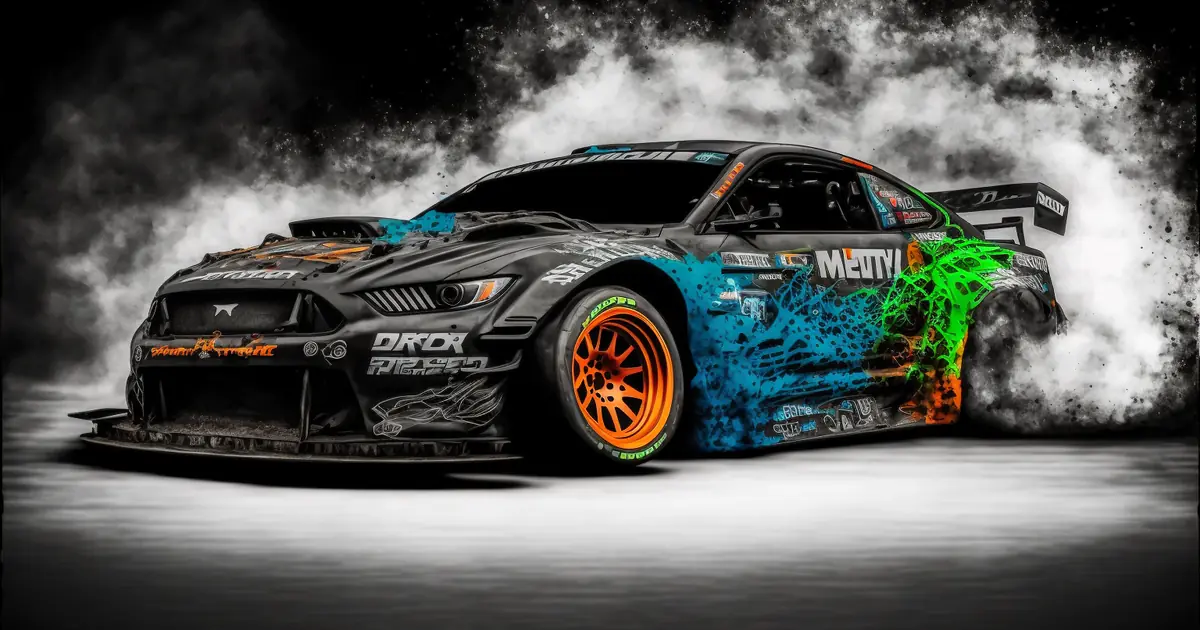 1/11/2023 Updated: 4/29/2023 | By: RC Soldier
Top 5 RC Drift Cars on the Market
RC drift cars have become increasingly popular over the last few years, and it's understandable. This hobby is really a blast, and once people give it a try, they often become hooked.
In the typical RC car racing world, everything revolves around speed and control, with more emphasis typically put on the speed aspect. Not so with RC drifters, which are built for superb handling and highly sensitive throttle control. They're also equipped with features like low center of gravity, fully adjustable suspension, and slick tires for improving the drift.
Optimal Turns and RPMs for RC Drift Cars
Many performance RC cars utilize a turn ratio roughly in the range of 3-8 turns. Remember, the lower the turns and (higher Kv), the higher the RPMs. Take a look at this graph to get a visual of how this works:
RC drift cars are often equipped with motors in the range of 10-15 turns. Based on this chart, you might be thinking: why would I want less RPMs for an RC race car? It boils down to handling and throttle performance.
When you're drifting around a track, it's nearly impossible to control the car when your motor is churning out around 5k RPMs or more. This is why most drivers opt for a motor that has optimal low RPM throttle control.
It's interesting that when RC drifting first became popular, most racers opted for motors in the 20 turn range. However, with recent technological advancements in brushless motors such as adjustable mechanical timing, drivers are able to experiment with motors such as the Hobbywing Xerun D10 Drift Brushless Motor, which comes in both 10 and 13.5 turn options.
Finding a Quality RTR RC Drift Car
It can be tricky finding quality RTR options in this niche, as many companies are only now starting to manufacture RTR RC drift cars. We've done some research for you, and have compiled a list of excellent mid to high range choices that can get you started.
We also try to only suggest RC drift cars that have good aftermarket support.
Things to Look For in RTR RC Drift Cars
Drivetrain: Is it RWD or AWD? Most high-level guys only race RWD, but there are some AWD competitions to be found as well.
Motor: How many turns (Kv) is the motor? As we've seen, this differs from the usual RC car racing norms.
ESC (Speed Control): Variable frequency regulation of PWM & brake frequencies allows drivers to precisely regulate acceleration and braking.
If you want to learn a little more about RC drifting in general, check our detailed write-up about the current state of the RC drifting world and how things are evolving.
RC drifting is so popular at the moment, many RC drift cars are sold out and can only be purchased via backorder. Most of the drifters we included are in stock. However, if one of the included cars is only available via backorder, we will inform you in the description.
Alright enough fluff, here's our list of the top 5 RC drift cars that are RTR currently on the market. Click one to skip ahead and read more:
Top 5 RC Drift Cars
Price: $399.99
RTR out of the box, just needs a battery and charger!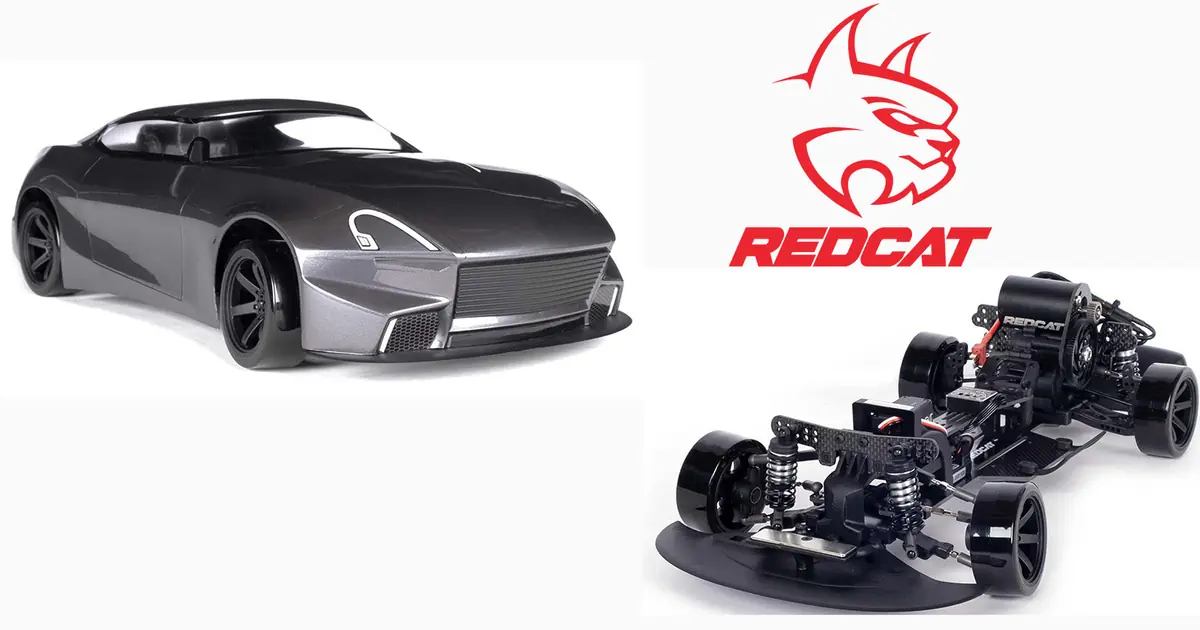 Most RTR RC drifters that are worth their salt are either sold out or on back order. The Redcat RDS is not only 1/10 RWD and fully race spec, it's also in stock and ready hit the track out of the box.
The RDS has been engineered with great attention to detail, with battery size and weight left as a tuning preference for the driver. The car is capable of accepting a competition style 2S shorty LiPo pack, LCG 2S shorty pack, or a standard sized 2S stick pack.
We've already talked about the importance of selecting a motor with the proper turns and RPM. The 3300kv motor equates to 13.5 turns, which is optimal for most drifting applications.
Built to cater to the specific needs of the drift racing community, the RDS is optimized for use on P-tile and polished concrete surfaces. The automatic countersteer feature of the RDS can be fine-tuned to provide the perfect drift angle for each driver, while the lightweight carbon fiber-based chassis ensures that the car stays agile and responsive.
Redcat 1/10 RDS RWD RC Drift Car | Features
Platform Built For P-Tile And Polished Concrete
Automatic Countersteer is fully adjustable
2.4GHz Radio System
540 3300kv Brushless Motor by Redcat
60A Brushless ESC by Redcat
Coreless Digital Hexfly Drift-Spec Steering Servo
Redcat 1/10 RDS RWD RC Drift Car | Required Purchases to Complete
(4) AA Batteries for Transmitter
(1) 7.2V - 7.4V Battery
(1) 2S Shorty LiPo Pack (Optional)
(1) LCG 2S Shorty Pack (Optional)
See the Redcat 1/10 RDS RWD RC Drifter
Price: $389.99
RTR out of the box, just needs a battery and charger!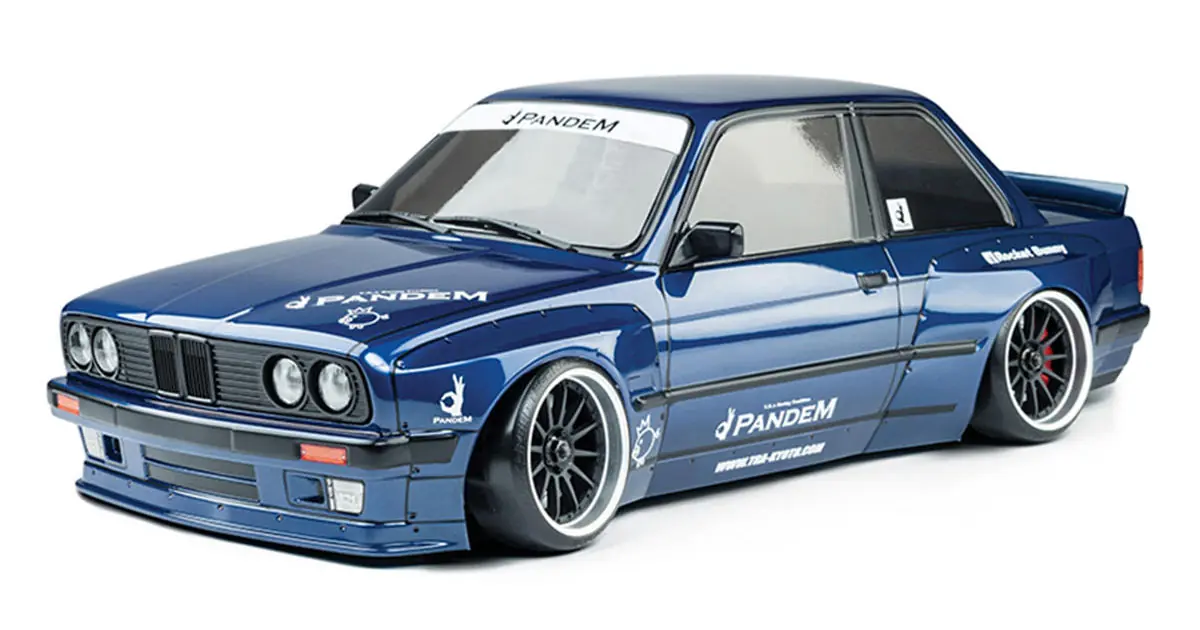 The MST RMX is a next gen RC car drifter that's designed with professional racers in mind. This car comes with a ton of configurable options in order to maximize drift control.
If you're interested in taking RC drift racing seriously, this is an excellent choice if you don't want to build your drifter from scratch. The RMX platform was designed to allow flexibility and control. Why? Well, RC drift configurations are kind of like a black art. It's far from a strict science, and most serious racers have their own preferences for tweaking their RC drift car to maximize performance.
This RC drifter is so popular it's only available for pre-order at the moment. Get your order in now before it's sold out!
MST RMX 1/10 2WD RC Drift Car | Features
Updated chassis adds improved rear traction and control
Vertical or lateral servo configuration
Gearbox can be converted from RMX to RRX configurations
High angle steering system with adjustable Ackermann changes
High or Low center of gravity motor mounting options
Full ball bearings throughout
Steel CVD axle transmission system
Hobbywing XBL 2500Kv motor
Hobbywing XBL50 electronic speed control
MST SC-0352 high speed steering servo
MGX Steering Gyro
MUCH MORE! Click to see the entire list of features.
MST RMX 1/10 2WD RC Drift Car | Required Purchases to Complete
(1) 2S LiPo or 6-Cell NiMH Battery Pack w/T-Style Connector
(1) Compatible Battery Charger
(4) AA Batteries for transmitter
See the MST RMX RC Drift Car
Price: $294.99
RTR out of the box, no extra purchases necessary!
The HPI RS4 is a great entry level RC drift car. It's 4-wheel drive, which makes it a little easier to control for the novice driver.
The RS4 is 1/10 scale, which is perfecting if you're interested in entering an RC drift race. Most tracks require the car to be 1/10 scale, and many novice races allow the drifter to be 4 wheel-drive.
If you've recently heard about RC drifting, and are interested in buying something to get your feet wet, this is a great choice. Plus, many of the most popular RC drift models are sold out right now. This baby is in-stock, so you can get started asap.
HPI RS4 Drift RC Car | Features
Bevel gear differentials at each end of the car.
Full-time four-wheel drive.Chassis: Composite plastic
Versatile electronic speed control
Foam bumper protects the car from potentially damaging impacts
HPI RS4 Drift RC Car | Required Purchases to Complete
Just 2 AA batteries! Everything else is included to get started out of the box.
See the HPI RS4 RC Drift Car
Price: $189.99
RTR out of the box, with battery and charger included!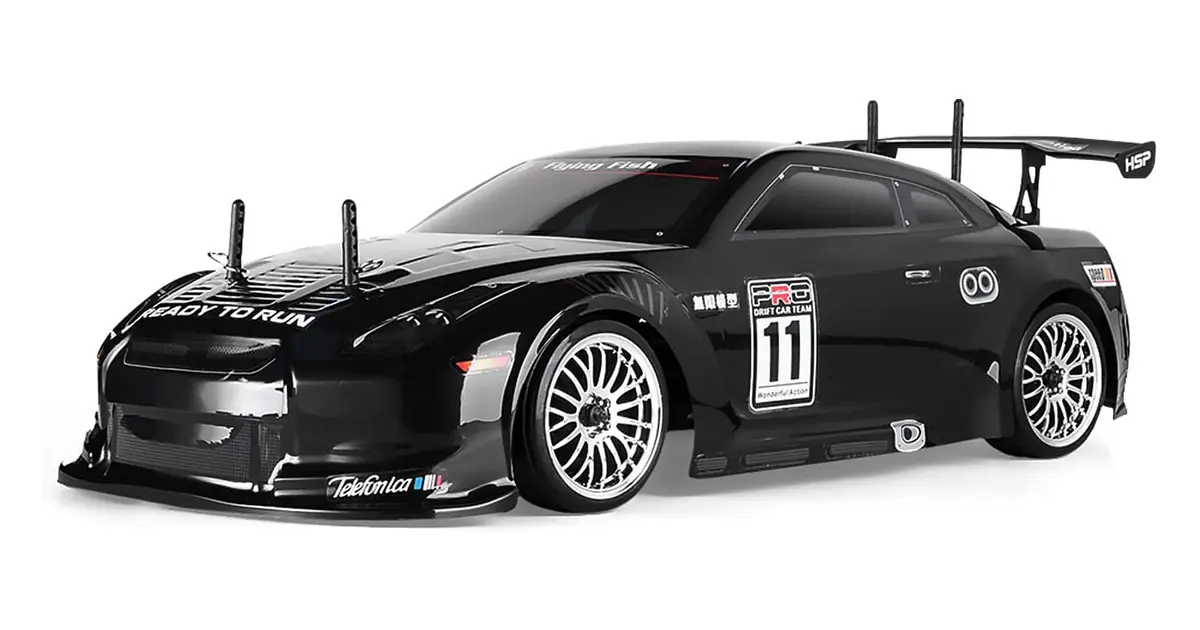 The HSP Drift RC Car comes with a sleek and aerodynamic body, designed to provide maximum speed and stability. The 1/10 Scale size makes it perfect for indoor racing, as 1/10 scale is the typical standard for most indoor RC drift tracks.
The durable construction can handle all the abuse you can give it, and the drift tires are calibrated to allow for the tightest of drifts.
Being a AWD drifter, you can expect maximum control. Many novice and pro drift races allow for AWD drivetrains, so you won't have trouble finding some competition.
With its fully customizable options and RTR parts kit, this RC drift car is excellent for novice drivers.
HSP Drift RC Drifter | Features
100% Ready To Run
4 Wheel Drive Shaft Drive
Light Weight Alloy Drive Shaft
Factory Installed Servo Saver
2 Channel Pistol Grip Radio Factory Installed
Front and Rear Differentials with Bevel Gears
Aluminum Cap Oil Filled Adjustable Shock Absorbers
HSP Drift RC Drifter | Required Purchases to Complete
Just 2 AA batteries! Everything else is included to get started out of the box.
See the HSP Drift RC Car
Price: $190.00
RTR out of the box, with battery and charger included!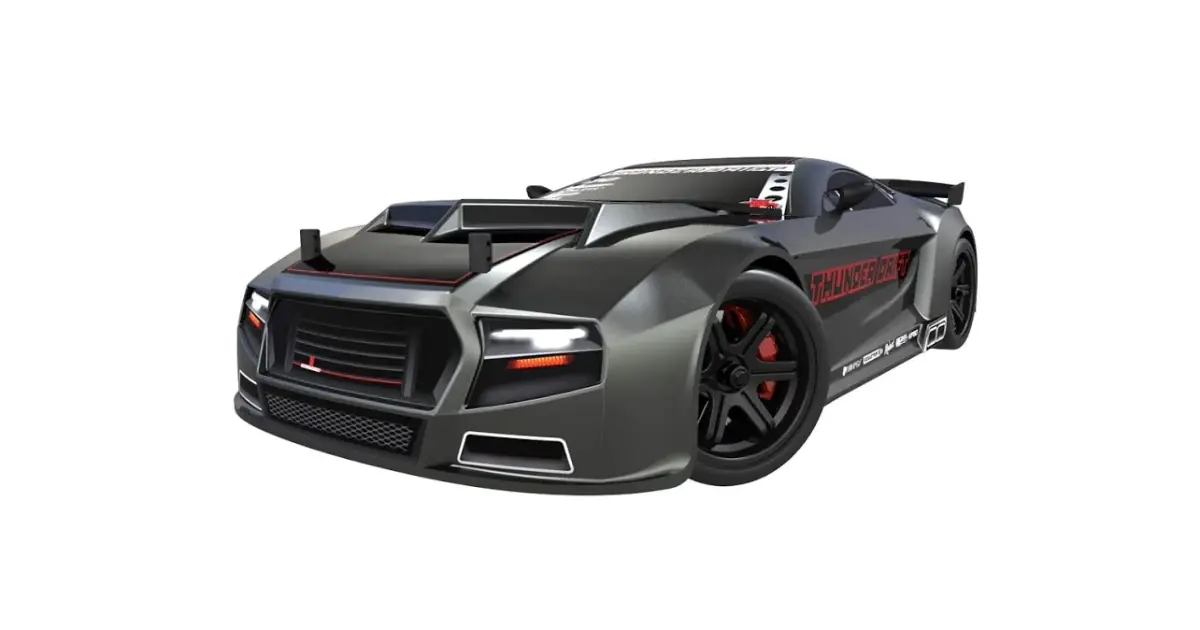 The Redcat Racing Thunder Drift RC Drift Car 1/10 Scale is the ultimate choice for drift racing enthusiasts looking for a high-performance machine at a great price!
Designed with speed and excellent handling in mind, this RC drift car is guaranteed to provide a quality racing experience.
Featuring a powerful brushed motor, advanced electronic speed controller and 4 wheel drive system, the Thunder Drift is great at delivering incredible power and control, allowing you to drift like a pro and leave your competition in the dust.
Redcat Racing Thunder Drift | Features
22T RC540 Brushed electric motor
Waterproof 40A electronic speed control
Responsive steering servo
2.4GHz Radio
Tunable suspension
Adjustable ride height
Belt Driven For Smooth Power Transfer
Independent Suspension
Lightweight Plastic Chassis
Aluminum Threaded Body Oil Filled Shocks
Bearings Throughout
Redcat Racing Thunder Drift | Required Purchases to Complete
Just 2 AA batteries! Everything else is included to get started out of the box.
See the Redcat Racing Thunder Drift
---
Hopefully you found this article helpful! If you'd like to know more about RC Cars, RC Boats, or Drones, check out our blog, or utilize the search feature at the top of the window.

This post may contain products from our affiliates, and we'll be compensated if you buy after clicking a link. It's how we grow our business and offer you great content!