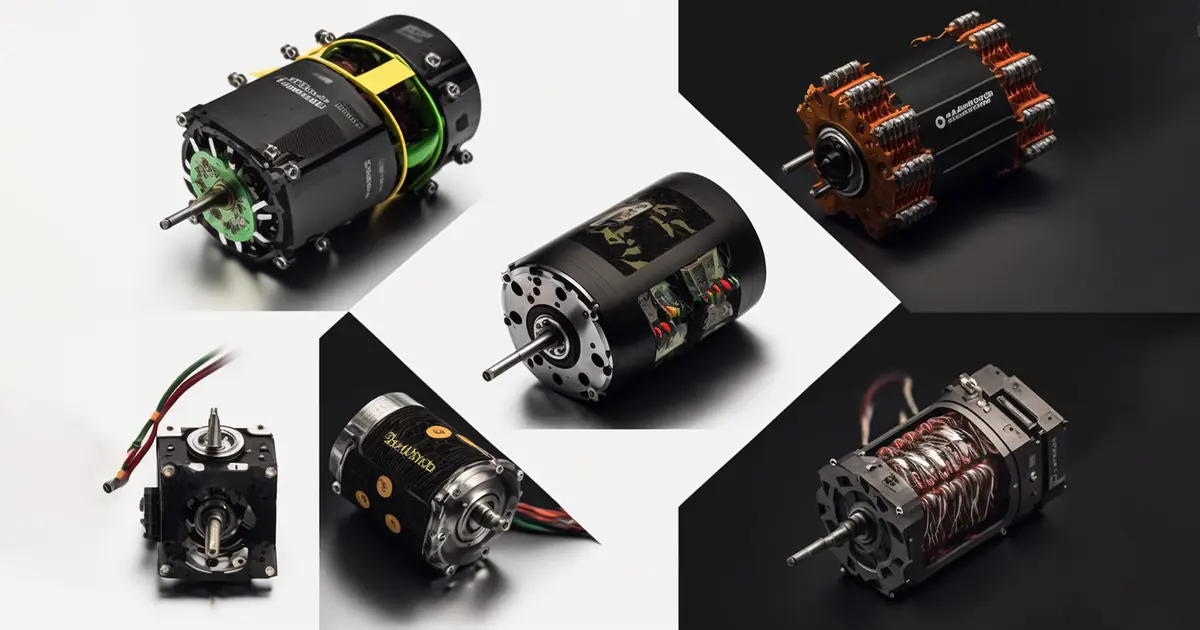 2/16/2023 | By: RC Soldier
RC Car Motors | Pro Guide for Performance Racing
The hunt for the perfect RC car motor can be tricky, and it requires scaling a mid-sized learning curve to shop effectively. We're going to teach you what factors to consider, such as performance specs and configuration options, and which models we would recommend for a few different applications.
It's generally accepted that the most popular RC car scales for racing are as follows:
1:10 Scale
1:8 Scale
1:5 Scale
Within these scales, you have a variety of forms of racing such as:
Off-road buggy or truggy racing (1:10 or 1:8 scale or 1:5)
RC drifting (1:10 scale)
RC drag racing (1:10 scale)
RC on-road street racing (1:5 or 1:7 or 1:10 scale)
Keep in mind that this list isn't exhaustive, and there's always some pioneering RC club out there that's coming up with a new class of racing. This is merely a list of the more common size designations and classes of competitive RC car racing, and there's an art to choosing the best motor depending on your area of interest and skill level.
Choosing the Correct RC Car Motor Size
First, let's consider motor sizes. How do you determine the correct size for your RC car? Well, it's not always 100% straightforward, but it's not rocket science either.
The size is determined in one of the following three ways:
Diameter shorthand - Examples:

540 (36mm diameter)
380 (~28mm diameter)
280 (24mm diameter)

Model designation - Examples:

3660 (36mm diameter 60mm length)
3674 (36mm diameter 74mm length)

Scale designation - Examples:
Depending on the brand and model of the motor, RC car companies may use any one of the three, or a combination. Taking a look at the product description should offer at least one of the three. Combining this information with the specs of your RC car allows you to determine the correct RC car motor.
It's very common for motors to be listed with the following format: 3674 - 3300
This translates to a 36mm diameter, 74mm length, and 3300Kv motor.
Important RC Motor Specs and What They Mean
While examining an RC motor's specs, you should highly consider the following:
Motor size
Kv and/or Turns
Max voltage and/or cell-count
The first two are pretty straightforward. We already covered the size aspect, refer back to the previous section for that one. Less turns equals higher kV, which in turn equals higher RPMs and more speed. So, keep in mind that if you want speed, higher kV and low turns is the way to go.
Turns to RPM Ratio
Just remember that with more speed comes more power consumption and more heat generation, so you'll need to ensure you have a system that compensates.
RPM can be calculated by multiplying the input voltage by the kV rating. So, if you have an 11.1v 3S battery and a motor rated at 3000kV, the RPM calculation looks like this:
11.1v x 3000kV = 33300 RPM
This formula (or just referring to our graph) is a great way to determine which motor offers just the right speed for your race class and skill level.
Sensored vs Sensorless RC Motors
A sensorless motor lacks hall sensors that are used to help control throttle modulation, whereas a sensored motor utilizes hall sensors to achieve smoother throttle acceleration and overall speed control.
The sensor tells the electronic speed controller (ESC) where the armature is, providing the ESC with extra information for enhanced power distribution.
There are benefits to each type of motor. A sensorless motor allows for un-governed speed, and is pretty much a balls-out approach to brushless motor design. The sensored motors are beneficial because many RC drivers want more control over their car, allowing for better control around the track.
For this reason, most RC car racers prefer a sensored motor. It's the more sane choice, as it's nearly impossible to navigate a track effectively without the extra control they bring to the table.
Call Your Local Track
It's always a good idea to call your local track (or wherever you plan on racing) and ask them what motors guys typically run there. It's common for the local speedsters to be running 4.5-6.5 turn motors, but that doesn't mean you can't get away with running on a more moderate platform. Call and ask what classes they have, common setups, and any requirements or restrictions you'll need to be aware of.
That being said, we're going to recommend two RC car motor models for each scale, one for novice racing and one advanced, and explain which class of racing it's best suited for and why.
Synopsis
There's no one-sized fits all answer for which motor specs are best for a particular class. For that reason, we're going to show you some great RC car motors for 1:10 scale buggy racing to serve as an example for what to look for when shopping around.
We highly recommend that you experiment with different motor and ESC configurations in order to develop your own preference.
Alright, that covers the pertinent details. Let's take a look at some top-notch motors and review how to shop for the correct model for your specific needs.
Best RC Car Motors for 1:10 Buggy Racing
Price: $104.99
Well suited for advanced class 1:10 scale buggy racing.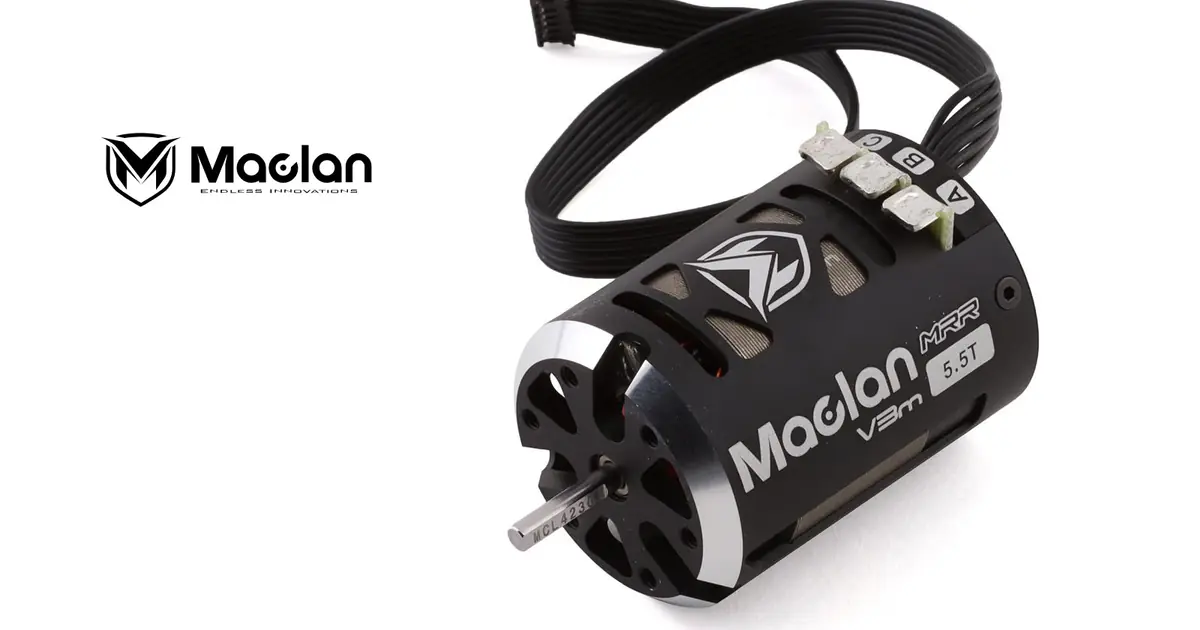 Disclaimer: 5.5T motors and other similar turn motors are for advanced classes and experienced racers. If you haven't been in the game for a while, I recommend sticking with a novice option until you get a feel for things.
That being said, we love Maclan motors for two reasons: quality and price. Maclan seems to always include super high quality products while staying at the bottom of the price bracket, which is why we recommend them quite often in our gear reviews.
In the realm of buggy racing, at 5.5 turns this motor is about as powerful as you'll want to go, and only with a 4wd platform at that. If you've been doing some buggy racing in the novice class, and you feel like you're ready to step your game up, this motor is a great place to start.
Some people do go as low as 3.5T, especially in RC bash racing where people go crazy and max out builds to test the threshold of what's possible. However, 4.5T-6.5T are what you'll usually see in the advanced classes.
Important: This motor requires a minimum of 4.8v, so make sure your ESC can accommodate that.
Maclan MRR V3M 540 Features
Engineered & Developed in the U.S.A.
Redesigned 1-piece motor can uses a total of 5 short screws. It saves weight and no more optional screws required.
Improved stator shape that meets the latest ROAR regulations for the highest legal performance.
Realigned sensor positions for more accurate reading.
Premium Ultra Smooth Rotor is now standard by default.
Maclan MRR V3M 540 Stats
Turn: 5.5T (Available in 3.5, 4.5, 5.0, 5.5, 6.0, 6.5, 7.0, 7.5, 8.5, 9.5 and 10.5 Turns)
Short Stack: No
Case Length: 51.20mm
Case Diameter: 36.00mm
Shaft Extension: 14.00mm
Shaft Size: 3.17mm
Weight: 155g±3g
120 day warranty
See the Maclan MRR V3M
Price: $119.99
Well suited for novice class 1:10 scale buggy racing.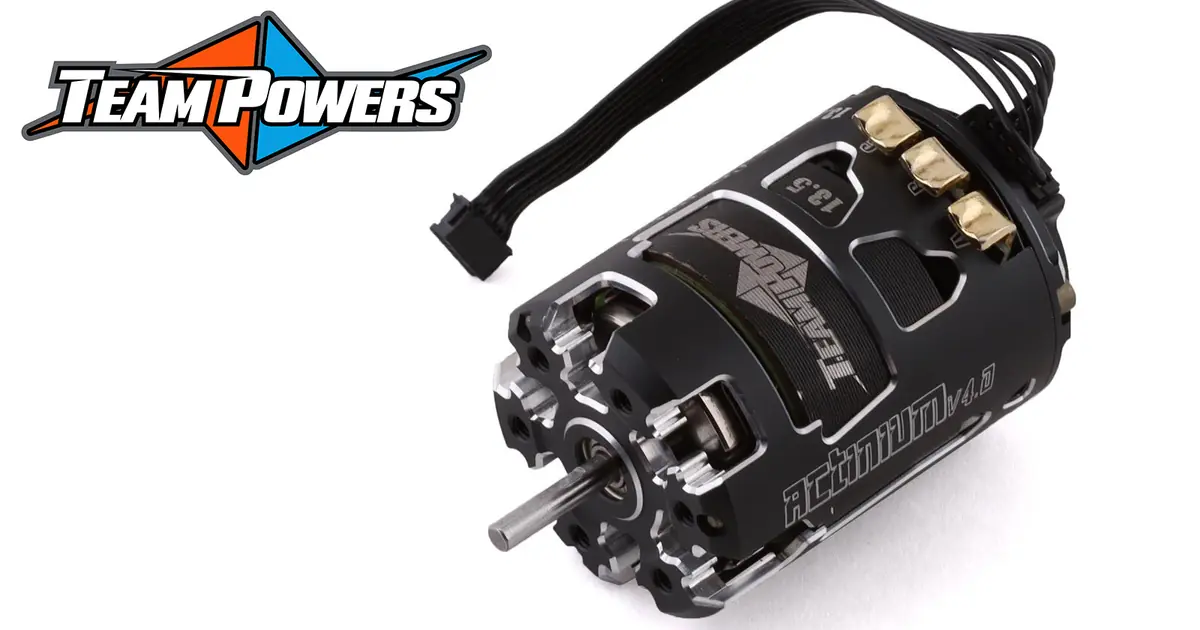 When it comes to a more moderate setup for novice buggy racers, 13.5T is usually a safe bet. It's a happy middle ground that allows for some serious speed without going overboard.
Everyone seems to love these Team Powers motors, including us. At $120 bucks, it's right in the sweet spot of the price range for quality motors.
You won't have to be quite as careful as relates to heat and drivetrain issues, but you'll still be able to race at a high level. The 13.5T is well-suited for 4wd novice classes if they're available, but you can easily rock it in a 2wd if you feel so inclined.
Most advanced 2wd classes run somewhere around 8.5 turns, so 13.5 is a sweet spot that allows you to race at a few different levels depending on your track and skill level.
Team Powers Actinium V4 540 Features
New stator design paired with ultra-high grade copper wire improves bottom-end torque and lowers internal resistance.
Revised precision CNC machined collector ring made of proprietary alloy blend combined with gold plated solder terminals results in improved conductivity, internal resistance, and appearance.
Improved precision CNC machined aluminum case design includes more cooling vents and uses convection cooling to lower operating temperatures.
3-5 grams lighter than the V3 motor (depends on winding)
Team Powers Actinium V4 540 Specs
Design Specification: Based on IFMAR/ROAR/EFRA/BRCA
Motor Dimensions (Diameter x Length): 35.8mm x 51.5mm
Shaft Diameter: 3.17mm
Magnet Dimensions (Diameter x Length): 12.5 x7.2x25.2mm (10.5T21.5T)
Weight: ~150g (vary with different motor turn)
Recommended RC Model Car: 1:10 model car, Buggy, MINI Car
Available Turns: 4.5T, 5.5T, 6.5T, 7.5T, 8.5T, 9.5T, 10.5T, 13.5T, 17.5T, 21.5T, 25.5T
See the Team Powers V4 540
Conclusion
At the end of the day, nothing trumps first-hand experience. However, this article should serve as a guide for those who are trying to understand where to start when shopping for the best RC car motor for competitive racing.
If you want to dive a little deeper into brushless motors and how they work under the hood, our brushless motors guide is an excellent resource.
Hopefully you found it helpful. Give us a shout if you feel we left anything out!
---
Hopefully you found this article helpful! If you'd like to know more about RC Cars, RC Boats, or Drones, check out our blog, or utilize the search feature at the top of the window.

This post may contain products from our affiliates, and we'll be compensated if you buy after clicking a link. It's how we grow our business and offer you great content!