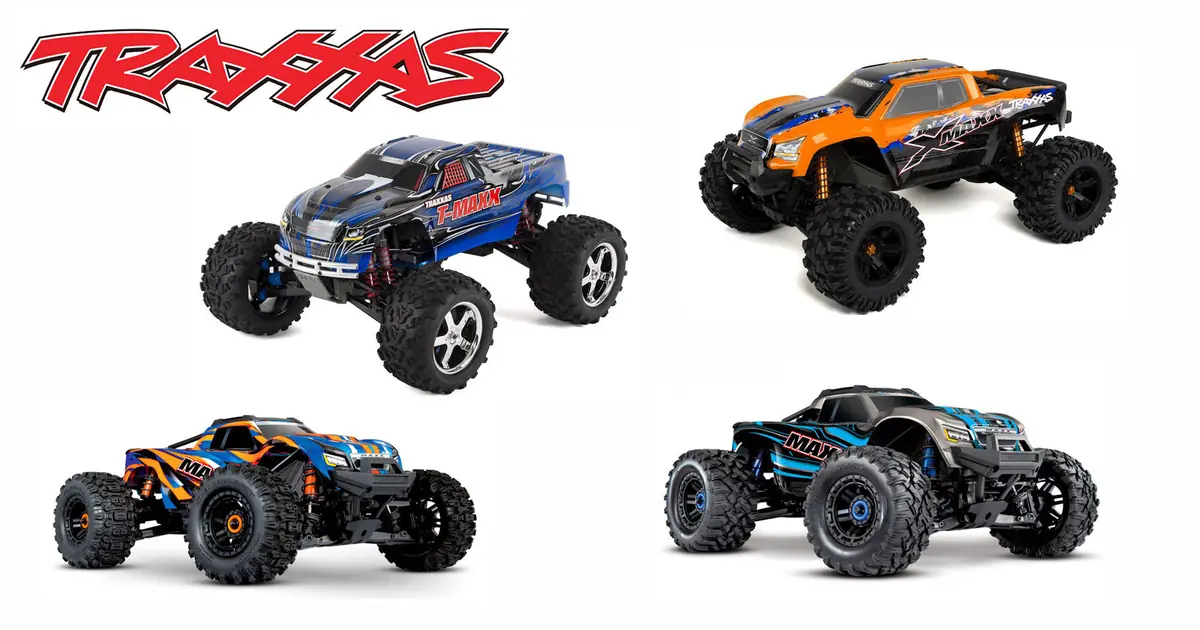 2/1/2023 | By: RC Soldier
TMaxx | The RC Monster Truck From Traxxas That Revolutionized the Hobby World
If you're a fan of RC trucks, then you already know about the legendary Traxxas TMaxx. This bad boy has been tearing up the RC scene for over two decades, delivering speed, power, and performance like no other. It's a blast to drive, and a must own for any true RC hobby enthusiast.
The TMaxx's journey to fame began back in 1999 when it first hit the scene. It was a real game-changer, with a revolutionary 2-speed transmission coupled with its nitro engine - unheard of at the time.
In this article, we're going to dive into the evolution of the TMaxx. From its humble Nitro gas beginnings, all the way to the current LiPo electric powerhouse we see today. We'll take a look at the innovative leaps behind each model, and see how it became such a cornerstone of the RC hobby world. We'll give a modern review of the latest models, as well as some older iterations, and suggest where you can get one at the cheapest price.
Video of the Traxxas XMaxx (Newest TMaxx Iteration) at the Track
The Original Traxxas TMaxx
The original TMaxx was powered by a Nitro gas engine and could reach speeds of 25 MPH out of the box, which was pretty crazy for back then.
Most people don't realize the first TMaxx release in 1999 didn't come with the TRX 2.5 Nitro engine. Instead, it came with the TRX-Pro15 engine, which wasn't nearly as powerful as its modern counterpart.
If you're a true RC history nerd like us, you can take a look at RC Scrapyard's write-up on the original TMaxx. It's really cool, even for a little nostalgia if nothing else!
What made the original TMaxx so revolutionary was that it came packed with so much power and speed out of the box.
Back in those days, you usually had to put in some work with custom builds to get that kind of speed out of an RC monster truck.
Unfortunately, the iconic first TMaxx model is no longer available in stores. You can find them for sale personally talking with guys at hobby gatherings here and there, so keep your eyes and ears peeled if you're interested.
The being said, the TRX 2.5 Classic is easy to find, and a much better truck!
The Traxxas TMaxx TRX 2.5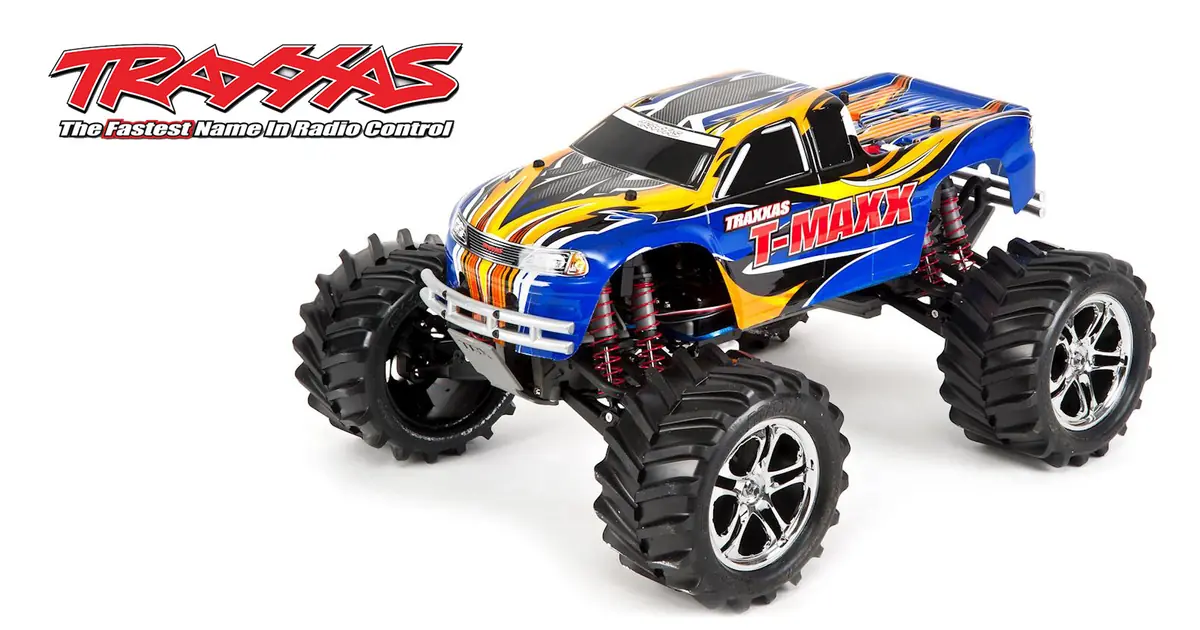 In 2002, Traxxas released the TMaxx 2.5, which comes equipped with some major upgrades. The 2.5 is contemporarily known as the TMaxx classic. This name can be misleading, as it's not actually the original TMaxx. Instead it's the first huge upgrade to the product lineup, the most notable improvement being the TRX 2.5 engine.
The TRX 2.5 has better suspension than the original TMaxx as well, which added a much needed boost in control that could tame the beast while driving at a top speeds of 40+ MPH.
The suspension system upgrades include adjustable sway bars and larger tires, which really make a difference around tight turns and big jumps.
The TMaxx 2.5 was a hit, becoming one of the most popular RC trucks of all time.
Traxxas TRX 2.5 Features at a Glance
TRX 2.5 Racing Engine
Strengthened front and rear bulkheads
Strengthened differential housings
Strengthened engine mount
Receiver box with blue-anodized aluminum crimp nut
Pre-glued 3.2" Maxx Chevron tires mounted on mirror-chrome 5-Spoke wheels
Improved adjustable body-mounts
Traxxas TMaxx TRX 2.5 | Price and Availability
The TMaxx classic isn't always in stock these days. However, AMain has been keeping a steady stock lately, so if you're interested in the old school TMaxx experience, you should be able to indulge without much wait for around $440 bucks.
See the TMaxx TRX 2.5 for $439.99 at AMain
The Traxxas TMaxx 3.3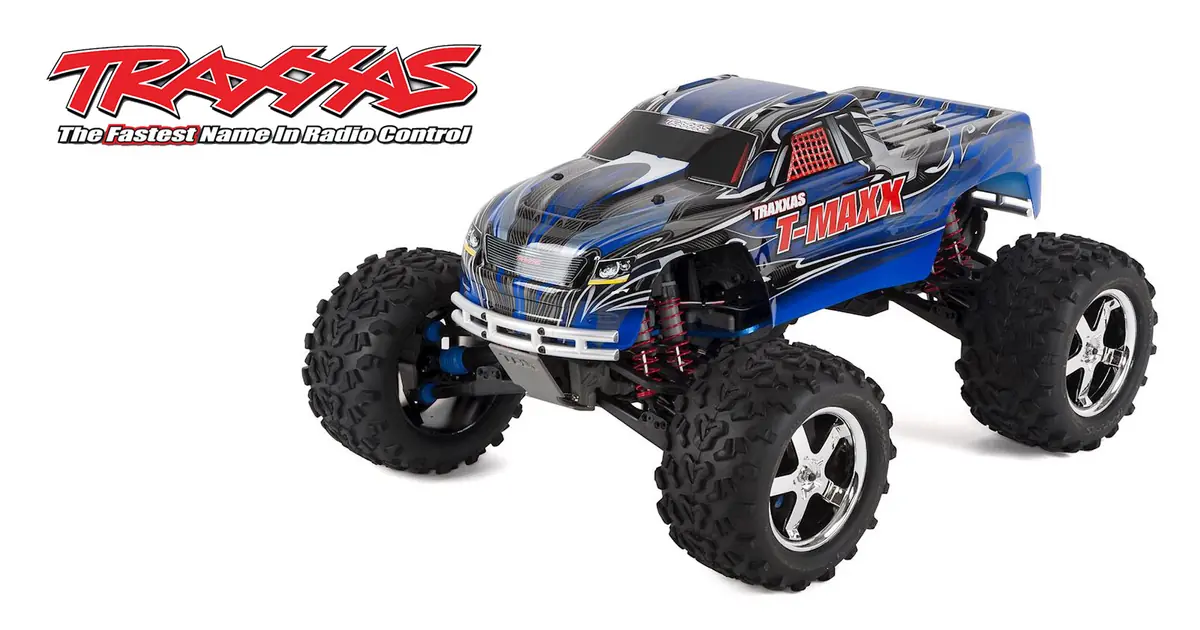 Three years later, in 2005, Traxxas released the TMaxx 3.3, which was another significant upgrade. The 3.3 model featured a new engine, the TRX 3.3, and a more advanced transmission system. This allowed for even more power and speed, with a top speed of 45+ MPH.
One of the biggest improvements you'll notice from the 2.5 to the 3.3 is acceleration and overall speed dispersion. The new transmission really improved the race performance because of factors such as this, making the 3.3 TMaxx one of the first models that could handle the track with proper control.
The suspension system was also improved, with the addition of reinforced components and stronger shock absorbers.
The TMaxx 3.3 was a hit amongst enthusiast yet again, offering even more versatility and performance and furthering this innovative nature of this product line.
Traxxas TRX 3.3 Features at a Glance
TRX 3.3 Nitro Engine
Traxxas Link™ Wireless Module
Automatically stores and loads settings for up to 30 Traxxas Link-enabled models—just switch on and drive, "model selection" is not required
Multi-Function knob
Adjustable steering and throttle percentage (dual rates)
Adjustable steering and throttle sensitivity (exponential)
Traxxas TMaxx 3.3 | Price and Availability
The TMaxx 3.3 can still be found at a few different hobby outlets. However, we feel AMain tends to have the best prices and nearly always has one in stock.
See the TMaxx 3.3 for $489.95 at AMain
The Traxxas Maxx 3s and 4s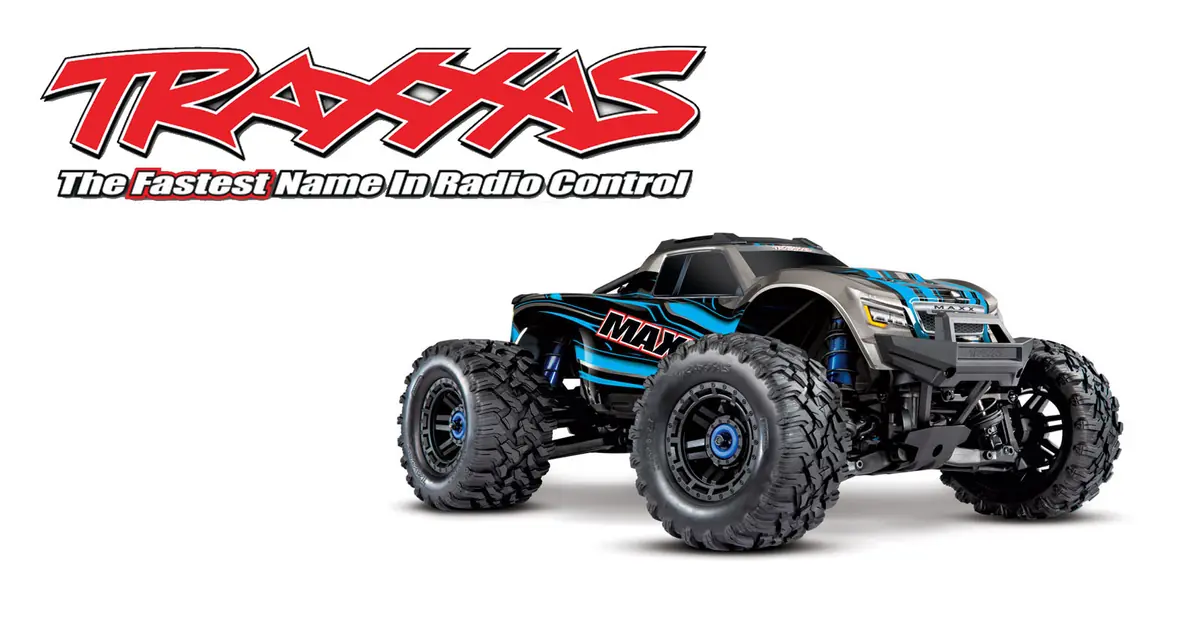 The Traxxas Maxx 3s was released in 2019, followed by the 4s in 2021. These models were the first major deviation from the standard TMaxx platform. Although not technically a TMaxx, it was heavily influenced by the flagship product, and is therefor worthy of inclusion on this list.
The Maxx 3s isn't available at many stores these days, as the 4s is essentially the same truck with marked performance upgrades.
If you're interested in owning one of the first LiPo powered TMaxx models, we recommend going with the 4s to ensure better aftermarket parts support.
The Maxx 4s introduced some novel features to this product series, most notably:
Fully electric LiPo system instead of nitro gas powered.
55+ MPH out of the box.
60+ MPH with optional gearing upgrade.
Traxxas Stability Management System (TSM)
A modular composite chassis.
The Maxx is built for extreme wear and tear, just like any TMaxx model before it. However, the XMaxx offers revolutionary speed and power with its fully electric system and high performance peripheral parts that come stock.
The Maxx 4s isn't as easy to find as the newer models we'll mention next (or the previous models for that matter), but you can find one here at RC Superstore for $549.00 bucks. However, we recommend taking a look at the WideMaxx instead, which is a much improved truck for around the same price.
The Traxxas WideMaxx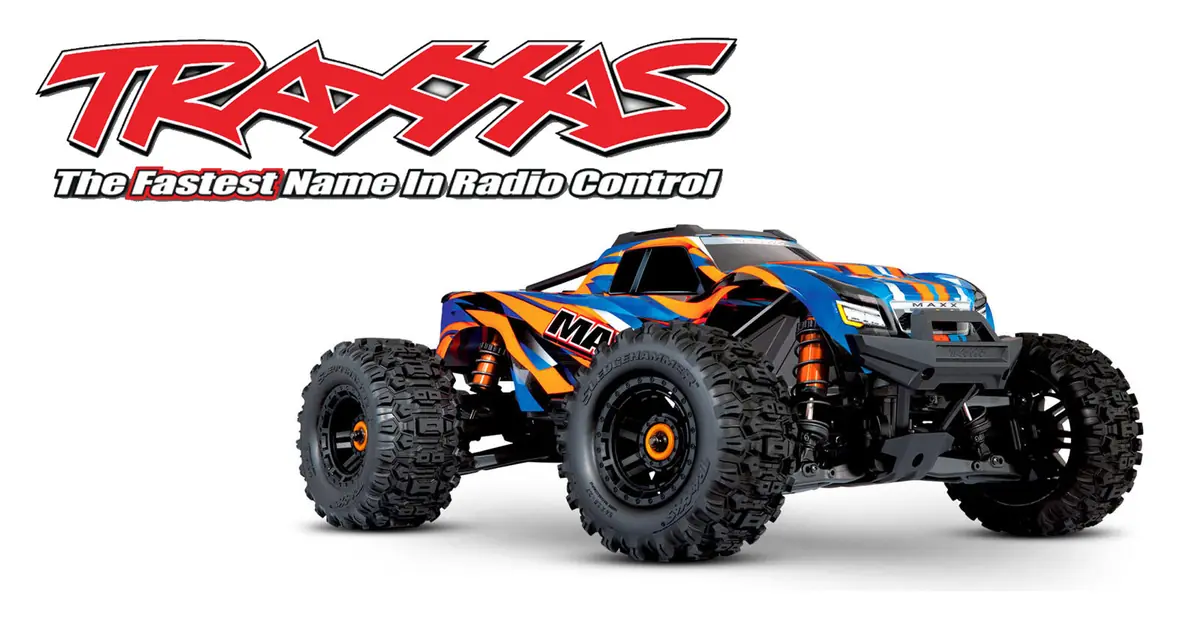 The WideMaxx, also known as the Maxx 2.0, is an improved and beefed up version of the XMaxx 4s. It still keeps the TMaxx look in many ways, but increases the wheel base by over 1.5 inches. It actually includes a totally revamped chassis that can handle more extreme tolerances in pretty much every metric.
With the WideMaxx, in our humble opinion, we believe you get the most bang for your buck. At well under $600 bucks, you get a whole lot of truck.
Traxxas WideMaxx Features at a Glance
Extended wheel base by over 1.5 inches
Refined shock tower design
Full length motor cradle
Updated wheels and tires
Clipless Body Mount System
Quick one-hand installation and removal
Traxxas WideMaxx | Price and Availability
You can find the WideMaxx at a few different vendors. However, we have found that AMain tends to have the best prices and always has them in stock.
AMain seems to have a close partnership with Traxxas, so we always recommend going with them if you're consider a Traxxas product.
See the WideMaxx for $569.95 at AMain
The Traxxas XMaxx 8s 1/5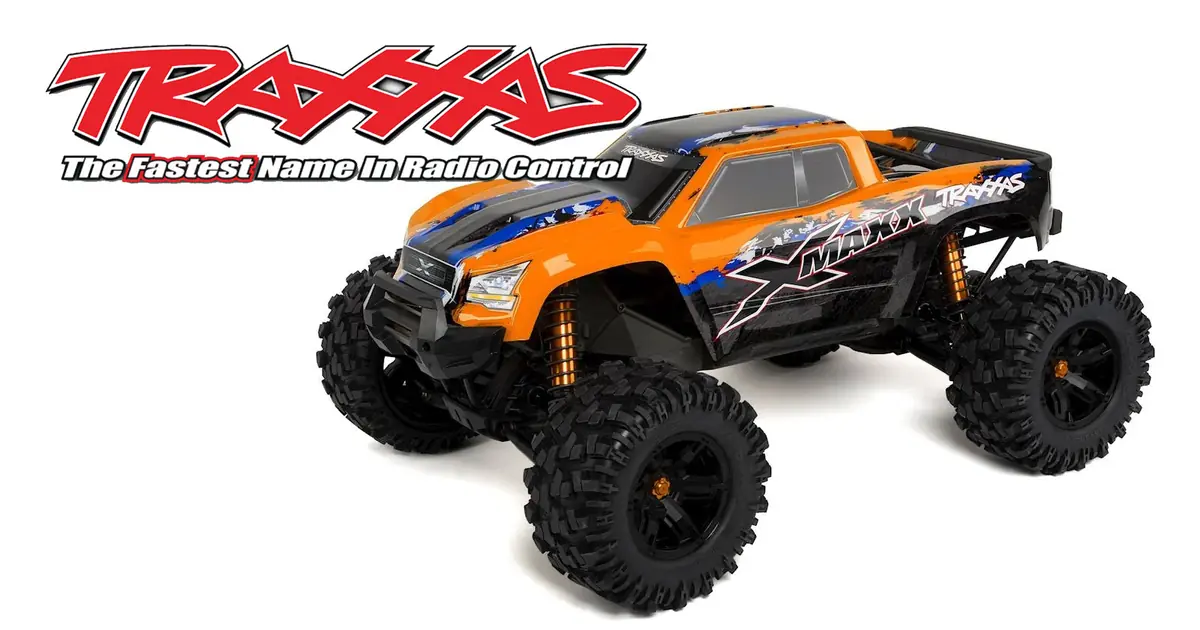 The XMaxx 8s is the latest and greatest version spawning from the TMaxx saga. The XMaxx is about 8 inches longer and wider than its predecessor, the WideMaxx. The XMaxx clocks in at roughly the same speed as the WideMaxx, but is much more powerful as it is pulling much bigger frame and more overall weight.
For a 1/5 scale to RC truck to move like the XMaxx required an all out rebellion against Newtonian physics, and the result was ultimately an innovative achievement any engineer would be proud to have been a part of.
The reviews for the XMaxx are always stellar, such as the following review from Gregg Bevlin:
Fantastic!! Best body mounting/dismounting system ever!!! Have several other 1/5th scales but this takes the prize!!
Traxxas XMaxx 8s Features at a Glance
Huge 1/5 scale chassis and body.
30+ Volts of Ridiculous 8S Power
All-metal gears and CVDs
Torque-Biasing Center Drive
Machined Aluminum Threaded Body Shocks
Much, much more
See the XMaxx 8s for $999.95 at AMain
The Traxxas TMaxx | A Continued Evolution
The Traxxas TMaxx has a rich history of technical evolution and innovation, making it a must have for any true RC hobby enthusiast. Whether you're a seasoned RC veteran or just starting out, the TMaxx is the perfect choice for anyone looking for an RC truck that truly delivers.
As we've seen, Traxxas continues to refine and improve the TMaxx, releasing new models with upgraded features on a regular basis. We'll update this article upon each iteration to ensure you guys can stay up-to-date.
---
Hopefully you found this article helpful! If you'd like to know more about RC Cars, RC Boats, or Drones, check out our blog, or utilize the search feature at the top of the window.

This post may contain products from our affiliates, and we'll be compensated if you buy after clicking a link. It's how we grow our business and offer you great content!