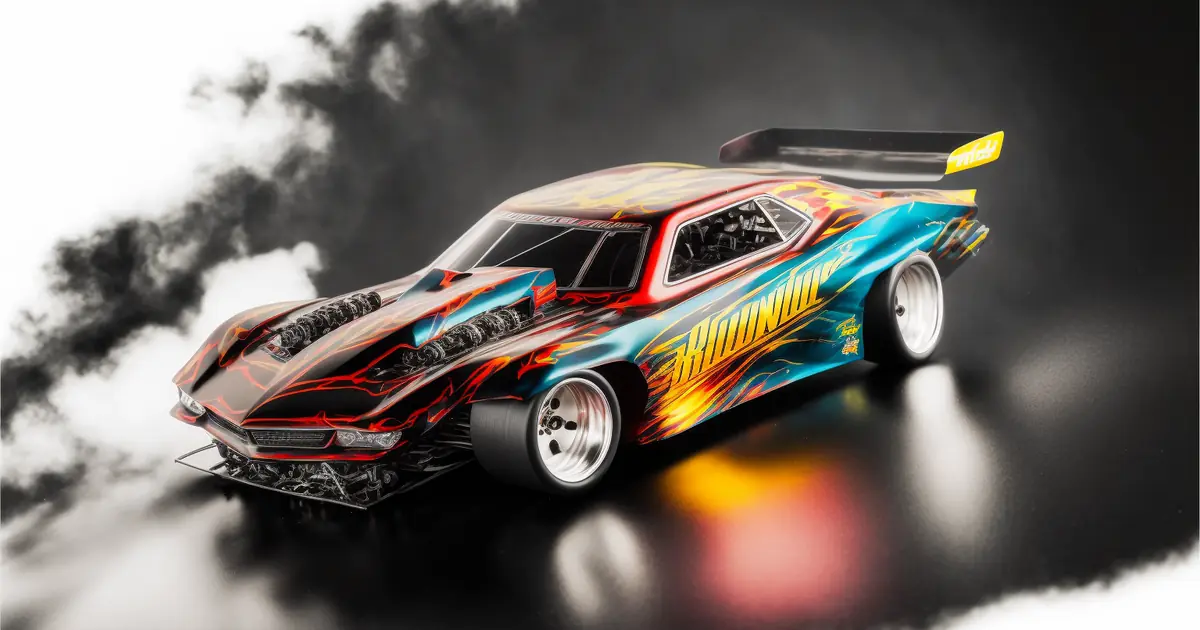 1/16/2023 Updated: 2/24/2023 | By: RC Soldier
RC Drag Cars | Top 5 Buyer's Guide
If you're looking for a list of some of the best no prep RC drag cars out there, we've got you covered.
We tried to only include RTR (ready to race) drag cars, but we're going to include some kit options for those of you looking to build one up yourself. RC drag racing is kind of a black art, and a lot of folks have their own idea of what's optimal, which is why the kits are a fun option in this particular race class.
Kv Equals Speed
If you aren't already aware, a motor's Kv rating equates to it's overall speed. When a motor has low turns and high Kv, it's going to be a fast motor. We reviewed three cars on this list that are RTR and fully compliant with most no-prep drag racing rules.
Of the three, here's a graph representing how they stack up as pertains to the included motor's Kv rating:
It's pretty clear from the data: the Team Losi 22s comes with the most guts out of the box.
We didn't include data from the last two, because one is a kit, and the other is 4-wheel drive (which doesn't adhere to most no-prep racing guidelines).
Parts Upgrades
We only recommend models that have good aftermarket support for parts and upgrades. Team Losi, Team Associated, and Traxxas have all been in the game for awhile, and all offer a great parts selection.
When you're flying down the track and crash, things will break. It's inevitable! Good availability for aftermarket parts is a must.
No-Prep Drag Racing Programs
The guys at Die Hard RC (located in Snohomish, WA), have a really cool no prep RC drag program. If you're interested in setting one up yourself, or just seeing how things operate, they have a competitive 3-class system that's inclusive for any level of racing.
Feel free to check out our no prep RC drag racing article for a bit more insight into this fledgling niche. We've included a video of an actual drag race so you can get a feel for the action.
RC drag cars are built for maximizing acceleration, traction, and control on a 1/4 mile track. There's an endless array of potential upgrades and modifications, which makes this a very fun niche for those who love to tinker.
We felt that a reliable top 5 list was needed, so we'll be keeping this list updated as the RC drag genre evolves.
Top 5 RC Drag Cars
Price: $299.99
RTR out of the box, just needs a battery and charger!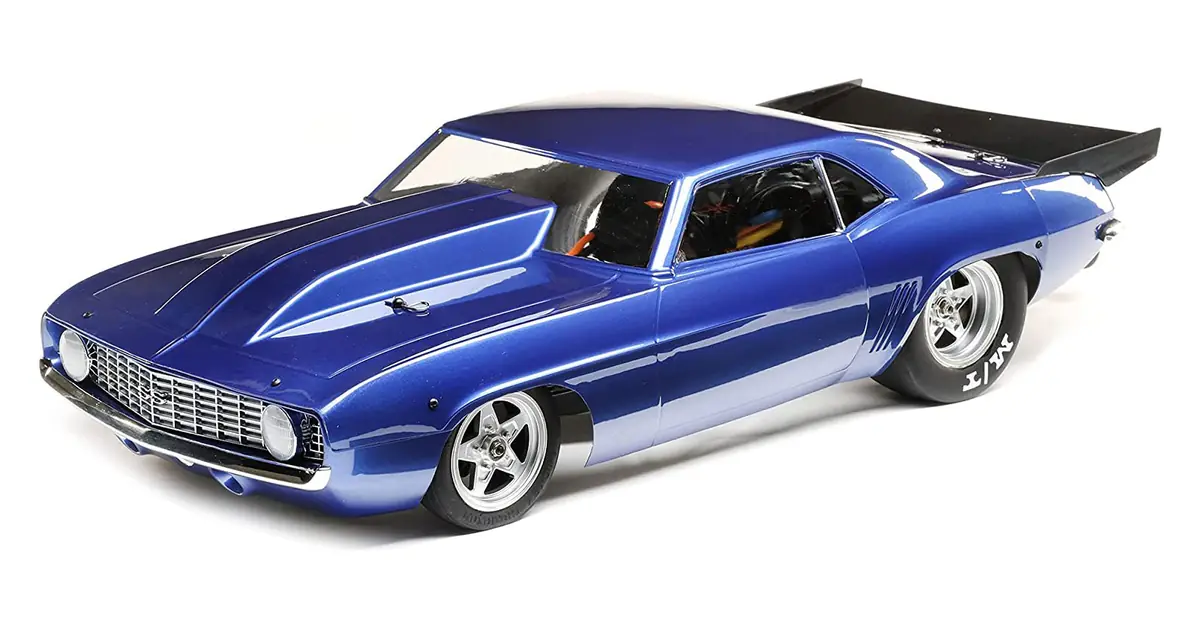 Here at RC Soldier, we love Team Losi. They're a cornerstone brand that always puts out quality products, and their cars always have great aftermarket support. Team Losi didn't pull any punches with their RC drag cars, and the 22S is a quality product you can count on giving you a competitive edge.
The Spektrum ESC and motor combo, with the motor clocking in at 6500 kv, is that main reason this car made the #1 spot on our list. As we know, higher Kv equals more speed, and this car offers the highest Kv in its class out of the box. Spektrum specifically built this motor/ESC combo for 2s no prep drag racing, and it's a perfect fit to be honest.
A 2 cell LiPo is plenty of battery for single shots down a drag strip, and offering 6500kv for a 2s or 3s battery configurations was a great idea.
The Team Lost 22S No Prep Dragster comes equipped RTR with all the goodies, while offering a highly customizable platform for you to tweak and mod to gain those extra milliseconds on the track.
Team Losi 22s | Features
Spektrum Firma 100 Amp Smart ESC
Spektrum Firma 6500kv Brushless Motor
Spektrum SLT3 Transmitter and Dual Protocol Receiver
All new 22S aluminum chassis
Officially Licensed 1969 Chevrolet Camaro Body
LED Lights
Mickey Thompson branded Large Rear Drag Racing Slicks
Mickey Thompson branded Low Drag, Front Tires
All Metal Gear Transmission
Full Adjustable Wheelie Bar
Team Losi 22s | Required Purchases to Complete
2-3S LiPo Battery with IC5/EC5 Connector
LiPo Compatible Charger
Assorted tools (see manual for details)
As for the battery and charger, we recommend the Spektrum 2S Smart LiPo 50C ($59.99) , and the Spektrum RC S150 AC/DC LiPo Smart Charger ($34.99).
See the Team Lost 22S RC Drag Car
Price: $249.99
RTR out of the box, just needs a battery and charger!
Team Associated is another great cornerstone brand in the RC world. The quality and performance we've come to expect is apparent in this dragster, and the DR10 is simply a great car.
The Reedy motor is only 3300kv, but we all know the quality that Reedy brings to the table. If you're looking for a car that's got some guts out of the box at a slightly better price, and has a lot of room for upgrades, the DR10 is a great choice.
Whether you want to race out of the box, or start a custom build with a quality foundation, the Team Associated DR10 is an excellent option to start with. Some of the features include:
Team Associated DR10 | Features
Three-position wheelie bar.
Optional large wheels.
High-torque, metal-gear Reedy servo
A fairly powerful Reedy 3300kV brushless motor
Team Associated DR10 | Required Purchases to Complete
4 AA Batteries used in the transmitter
Prefer to purchase without the battery and charger? Click here to view the DR10 package without battery and charger for $199.99.
See the Team Associated DR10 RC Drag Car
Price: $359.99
RTR out of the box, just needs a battery and charger!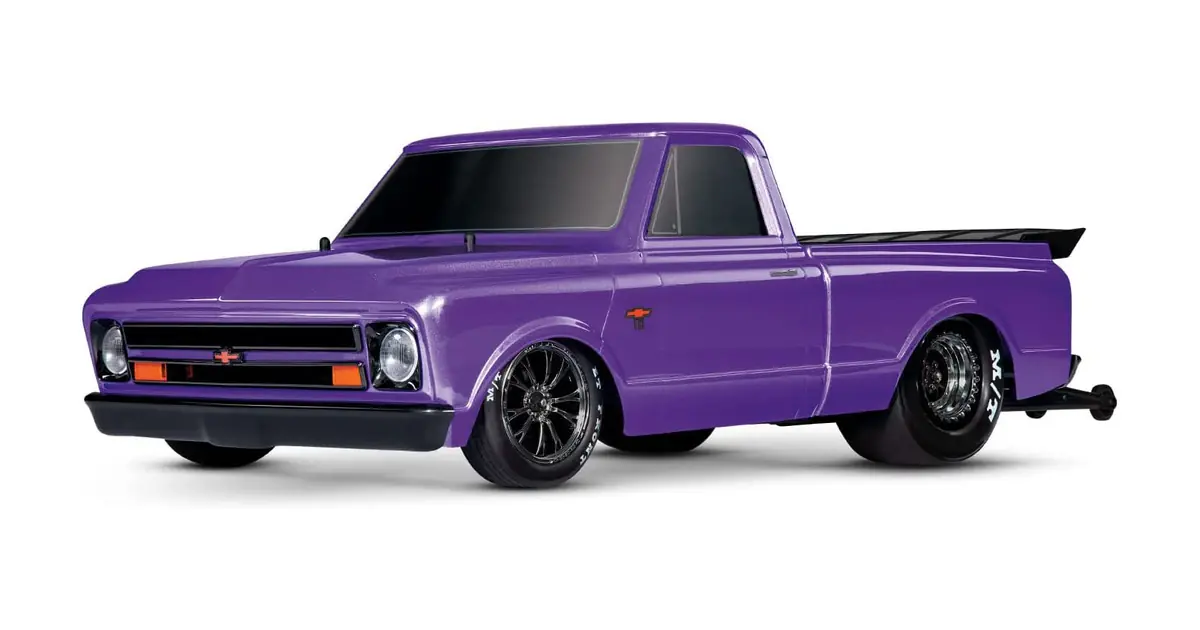 The Traxxas Drag Slash is Traxxas's answer to the high demand world of RC drag cars. Users want performance out of the box, and Traxxas delivered.
The Traxxas Drag Slash comes equipped with all kinds of novel drag racing features, such as the Traxxas Stability Management System (TSM). TSM makes braking much more effective, and also helps prevent burn outs.
The Drag Slash is out of stock at many of the leading hobby stores, so get it before it flies off the shelf like the rest of em'.
The Drag Slash is built up from the Traxxas Slash RC truck platform. This was pretty common to see even before brands started coming out with drag cars from the factory.
Traxxas Slash | Features
Officially Licensed Chevrolet C10 Body with Low Center of Gravity (Low CG) Chassis
VXL-3s Waterproof Electronic Speed Control and Velineon 3500kV Brushless Motor
Newly Released Magnum 272R Transmission
TQi 2.4GHz Radio System (with Traxxas Stability Management (TSM))
Traxxas Slash | Required Purchases to Complete
2-cell LiPo Battery
iD Charger
See the Traxxas Drag Slash
Price: $99.99

(19% Off Sale)
Kit car, you'll need to build this bad boy up yourself. Minimal required parts listed below.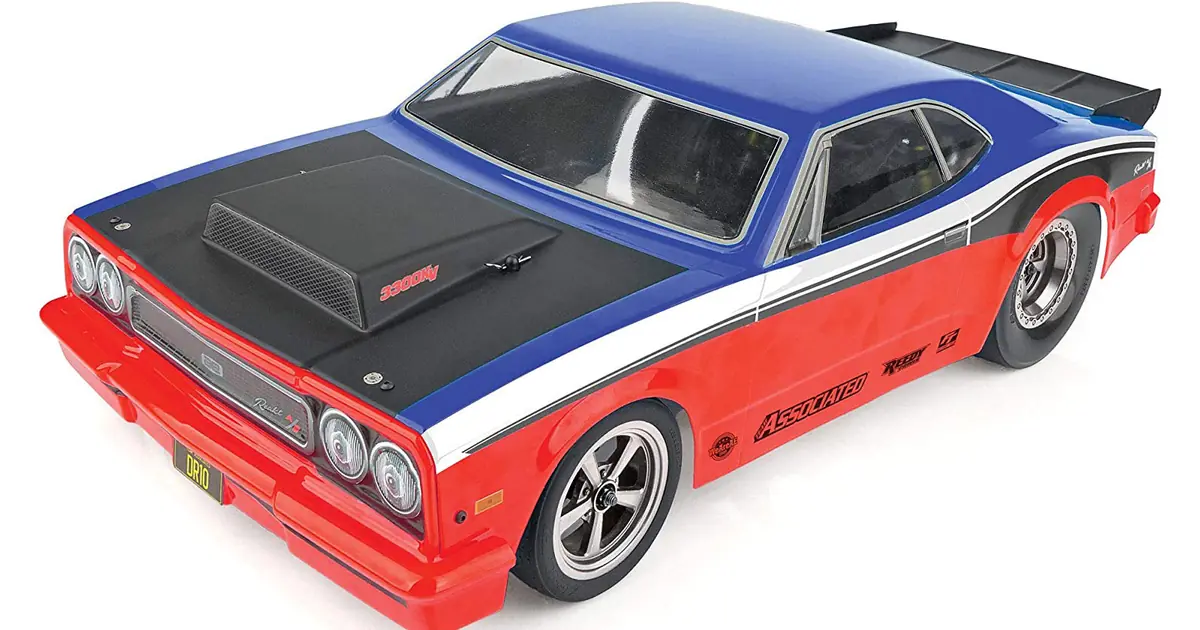 Alright, so we told you guys we were going to include a kit. This is an excellent, and very well-priced, option for those looking to build an RC dragster from the ground up.
There's tons of ways to configure RC drag cars for optimal performance, so it's understandable why many guys go this route. Team Associated is an excellent way to go, considering that their aftermarket support is second to none.
According to the manufacturer, you'll need the following gear at a minimum to get this puppy up and running:
540-size electric motor
Electronic speed control
2-3 cell 7.4V-11.1V LiPo or 6-7cell NiMH battery pack
Battery charger
2-channel surface transmitter and receiver
Steering servo (#27101 RT1508 Digital HV Hi-Torque Competition Servo)
1:10 scale 2.2" / 3.0" rear tires and 2.2" front tires
CA glue for tires and wheels
1:10 scale Drag Racing (No-Prep) body (#71082 DR10 Reakt Drag Body, clear)
Polycarbonate-specific spray paint for body, and body scissors
See the Team Associated DR10 Drag Kit
Price: $259.99
RTR out of the box, batteries and charger sold separately!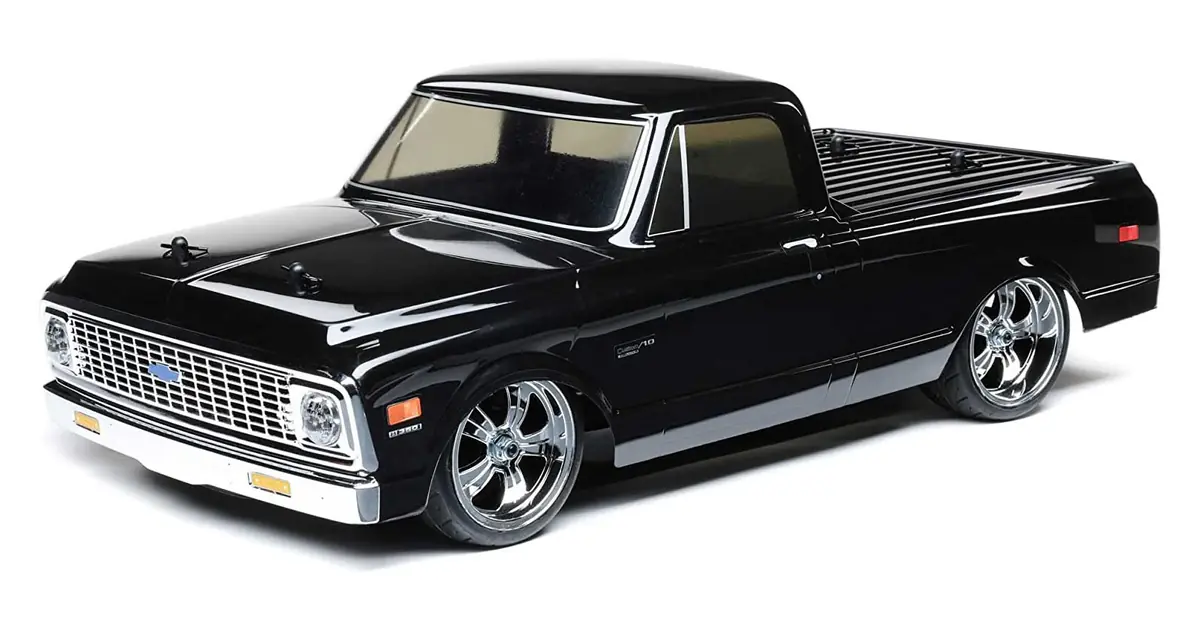 The Team Losi V100 is a mean looking drag truck, and our list of RC dragsters simply wouldn't be complete without it.
Most drag racing rules adhere to the 2wd only stricture. However, that's not always the case. If you find a track that allows for AWD RC drag cars, the Team Losi V100 is an excellent choice.
The great thing about the V100 is that is could double as a street racer, as well as an RC drag racer, if your local races allow for AWD dragster.
Team Losi V100 | Features
Officially Licensed 1972 Chevrolet C10 Body
Performance Proven V100 Chassis
Dynamite 15-Turn Brushed Motor
2 in 1 Brushed ESC / Receiver
2.4 GHz Radio System
V1 Performance Street Tires
LED Lights
AWD Shaft Driven Drivetrain
Locked Rear Drive
Waterproof Electronics and Component
Team Losi V100 | Required Purchases to Complete
1 7.2V NiMH or 2S LiPo Battery with EC3 or IC3 connector
1 Compatible Battery Charger
4 AA Batteries for Transmitter
See the Team Losi V100 RC Drag Truck
Synopsis
Well, as we've already stated in the beginning, the Team Losi 22s is the fastest choice out of the box. The fact that it's fully race compliant, and comes equipped with an ESC/motor combo build for drag racing, makes it the best option in our view.
RC dragsters are becoming more and more popular every year, and we don't see that trend changing any time soon. Hopefully you found this review helpful; feel free to reach out if you think we missed something!
---
Hopefully you found this article helpful! If you'd like to know more about RC Cars, RC Boats, or Drones, check out our blog, or utilize the search feature at the top of the window.

This post may contain products from our affiliates, and we'll be compensated if you buy after clicking a link. It's how we grow our business and offer you great content!