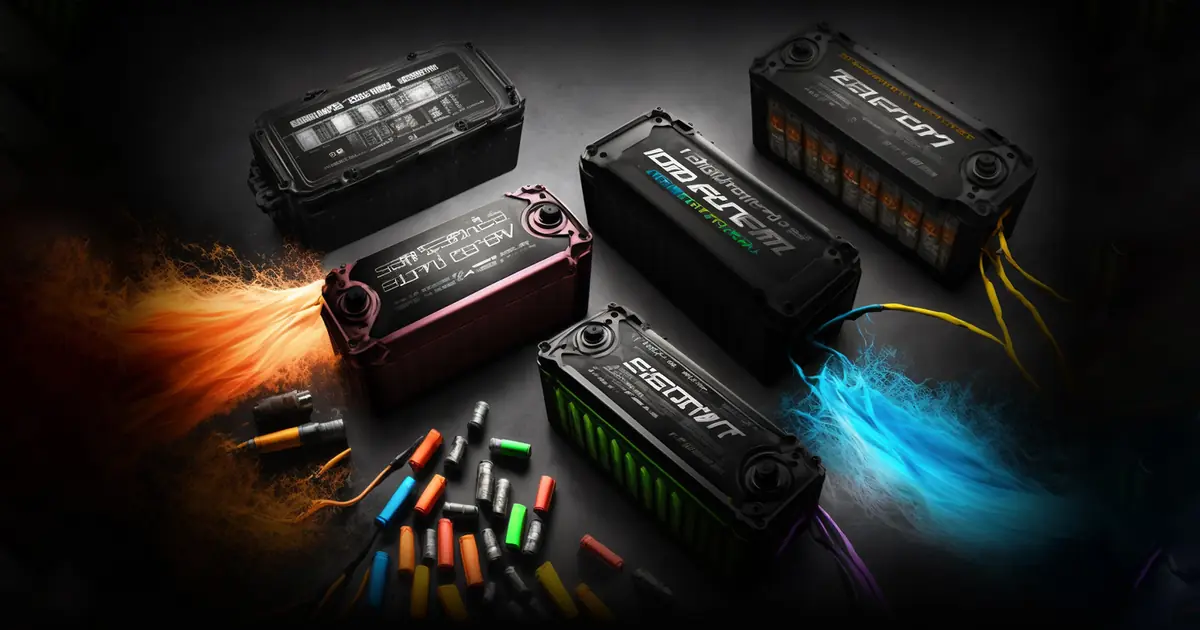 2/23/2023 | By: RC Soldier
Best RC Battery | How to Choose Wisely
Shopping around for RC batteries can be a little confusing for those new to the game of performance RC cars. NiMH, LiPo, mAh… All these acronyms! What do they all mean?
We're going to cover all the basic concepts related to these specs, how to determine what you need, and where you can get the best prices. This is a guide meant for folks looking to scale the learning curve of competitive RC car racing quickly and efficiently.
We'll start by covering the two main types of batteries, the benefits of each, and when you'll want to go with one or the other.
What Does mAh mean?
Milliampere hour (mAh) is a metric used to describe the amount of charge a battery can hold, and how long the device will run on a single charge.
You can use mAh output in conjunction with mAh usage to determine roughly how long a charge will last. For instance, if your RC car consumes 500 milliampere current continuously, and you're running a 10000 mAh battery, you should be able to get around 20 minutes of run time.
Nowadays, you'll want at least 5000mAh for any performance RC car setup.
NiMH vs LiPo | An Evolution of Performance
NiMH (nickel-metal hydride) batteries have been around since the early days of RC car racing, when I first started in novice buggy racing. They're actually pretty good batteries, even today, but they simply don't stack up against LiPo for a number of reasons. Many RTR RC cars still come with NiMH, but they're not very common to find in performance builds.
LiPo (lithium-polymer) batteries are the gold standard of performance RC cars. They brought many improvements into the fold, essentially relegating their NiMH counterparts to the dust bins. LiPo batteries entered the scene around 2005, right around the time brushless motors started becoming popular.
LiPo Nominal Voltage is 3 Times Better
There are multiple characteristics that make LiPo batteries superior to NiMH, but they can mostly be boiled down to one metric: nominal voltage. Nominal voltage is the amount of volts found in a circuit, in this case a single battery (or cell).
This graph gives a strong visual of just how much more weight-efficient LiPo batteries are than NiMH:
LiPo batteries have a nominal voltage (3.7v) that's three times greater than that of NiMH (1.2v).
Simple logic can tell you that this results in LiPo batteries requiring three times less cells, and therefore three times less weight.
In the RC race world, less weight equals more speed, so LiPo offers an obvious advantage in this regard.
For this reason, we'll be focusing almost solely on LiPo batteries for our recommendations.
Factors to Consider When Choosing a Battery
Weight: A lighter battery can give you an edge when racing competitively.
mAh: Milliampere hours determine how much action you can get out of a charge. The trick when racing is to get just enough mAh for your needs, as any excess simply leads to more weight and thus less speed.
Voltage (# of Cells): Your electronic speed control (ESC) will have a maximum voltage limit that you can find in the specs. When you purchase a battery, ensure that the voltage does not exceed what your ESC can handle.
LiPo Battery Types | Pay Attention to Voltage
LiPo batteries are designated by a number followed by an s. The s represents the number of cells, and by proxy the voltage, that a battery contains.
The ESC on most cars nowadays are compatible with either 3s, 4s, or 5s batteries. In some cases you'll see other configurations, but either way this is an important metric to keep your eye on. These are the most common:
3S = 3 cells x 3.7V = 11.1V
4S = 4 cells x 3.7V = 14.8V
5S = 5 cells x 3.7V = 18.5V
Voltage can vary slightly
Choosing the best RC battery isn't just about facts. Opinion plays a huge role, so keep in mind that the following analysis is based on our experience as humble hobbyist who love what they do, but isn't the end all be all.
To look out for those of you on a super-tight budget, we'll include one NiMH battery at the end that's very reliable if you happen to have a RTR car that needs a replacement.
The choices here mostly revolve around brand quality. Let it serve as a sane starting point, and a place to solidify your understanding of what you actually need.
Best Batteries for Performance RC Cars
Price: $159.99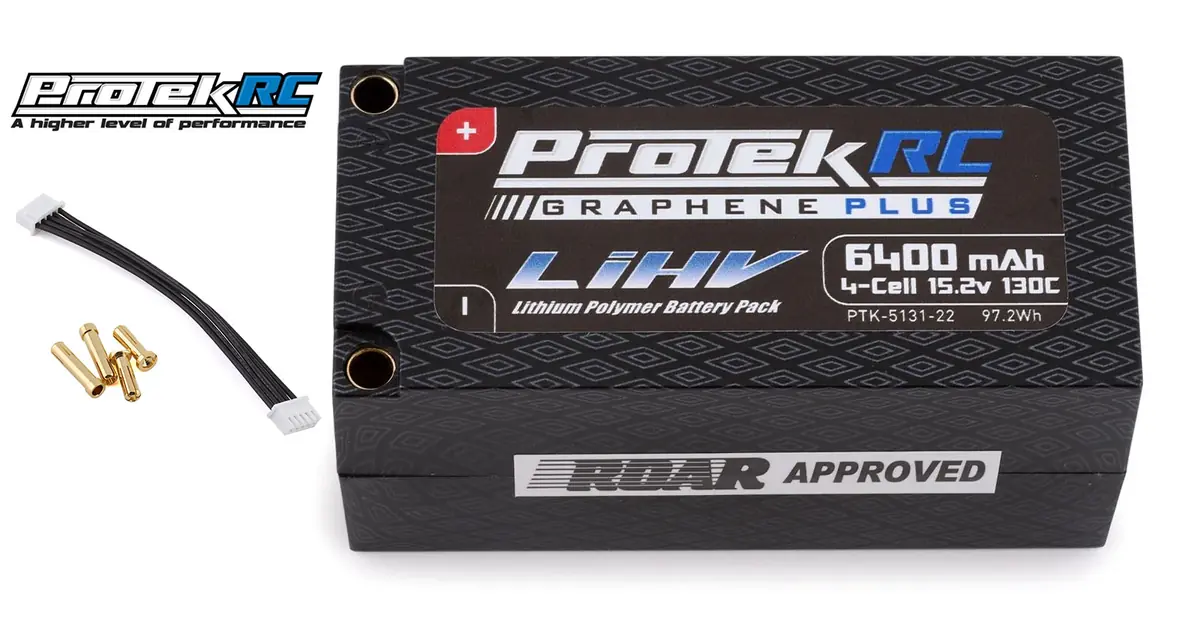 We've already discussed how important weight is in performance RC racing, and this factor is the main reason why this ProTek shorty is #1 on our list. It's the best RC battery around for the price, and comes in multiple configuration depending on your scale and class of racing.
Even with a mod setup, you should be able to garner around 15-20 minutes of runtime, plenty for any race while leaving some juice to spare.
This particular model was built with 1/8 scale buggy racing in mind, but it comes in many other sized and cell counts. So, take a look around and you'll be able to find what you need.
If you're interested in the standard size version of this battery, you can find it here.
ProTek RC 4S Features
Best price for RC batteries in this class.
Super-light 440g weight.
Shorty configuration is lighter and smaller with increased capacity.
Increased run-time while decreasing overall weight.
15.2v nominal voltage
5mm bullet connector
See the ProTek RC 4S
Price: $162.99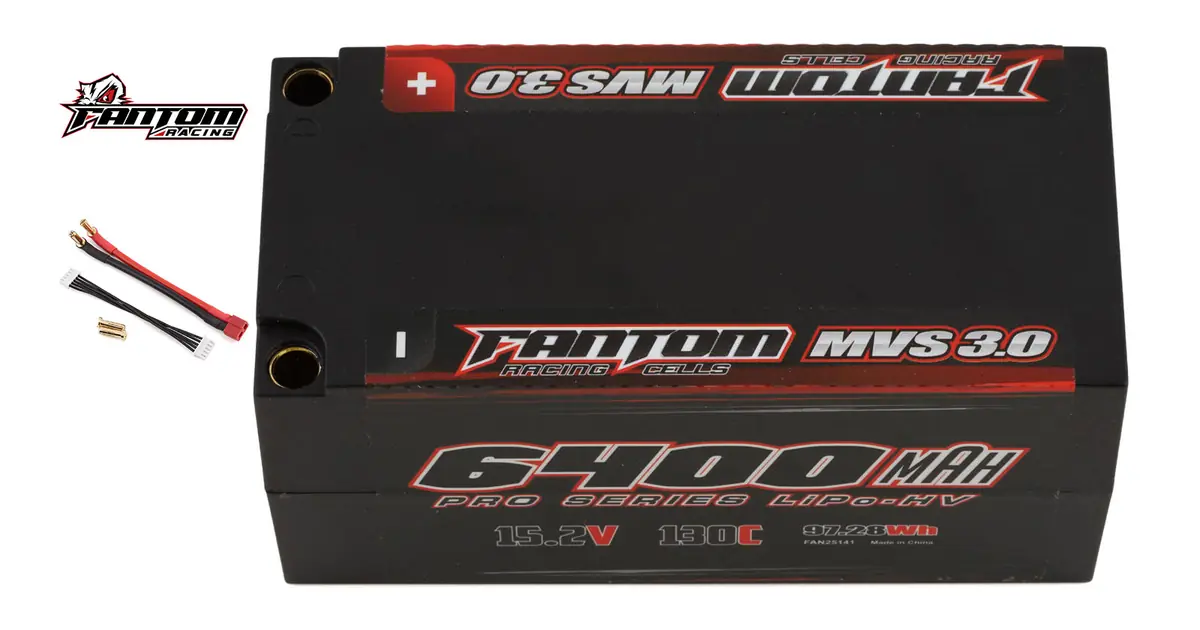 The Fantom Pro Series shorty is very similar in specs to the Protek we previously reviewed. It's a few dollars more out of your wallet, but Fantom is known for great products and we recommend trying this battery if for some reason you're not a fan of Protek.
You get 300 less mAh than the Protek, so it's a hard sell to make. However, Fantom has the advantage of a slightly bigger name, so some people veer toward Fantom for that reason alone.
Almost all of the reviews for Fantom batteries seem to be positive. Here's a few examples of what happy customers had to say:
The battery pack is worth the money. Charges fast and balances perfect.
So far great Battery, plus came with a huge foam sticky pad. Most likely will pick up another??
The chassis sticky pad that comes with the standard sized version of this battery is a great example of the attention to detail you'll find with Fantom products. They're a company that's all about quality.
If you're interested in the standard size version of this battery, you can find it here.
Fantom Pro Series Shorty 4S Features
Competitive price for RC batteries in this class.
440g total weight.
Shorty configuration (available in other sizes).
15.2v nominal voltage
5mm bullet connector
See the Fantom Pro Series Shorty 4S
Price: $26.99
Although NiMh batteries have pretty much been phased out in the competitive RC world, they haven't been completely relegated to the dust bins.
Many RTR RC cars still come with NiMh batteries, and it's important to be able to accommodate aftermarket replacement needs.
If you've noticed your NiMH battery not holding its charge, or your RC car performing in a sluggish manner, it might be time for a replacement. EcoPower makes a great battery at an excellent price, and 4200mAh can get you over 20 minutes of run time at a 7.2v nominal voltage.
EcoPower NiMh Stick Pack Features
Budget price great for RC beginners
407g total weight
7.2v nominal voltage
T-Style connector
See the EcoPower NiMh Stick Pack
Synopsis
Finding the best RC battery requires research and a bit of trial and error. As with most things in this world, nothing trumps experience.
For this reason, it's important to do your own analysis. We're glad to help out and share what we've learned in order to help you get the ball rolling, but there's nothing like acquiring your own hard earned knowledge. Let us know if you have any additional insight that would be helpful for this article!
---
Hopefully you found this article helpful! If you'd like to know more about RC Cars, RC Boats, or Drones, check out our blog, or utilize the search feature at the top of the window.

This post may contain products from our affiliates, and we'll be compensated if you buy after clicking a link. It's how we grow our business and offer you great content!