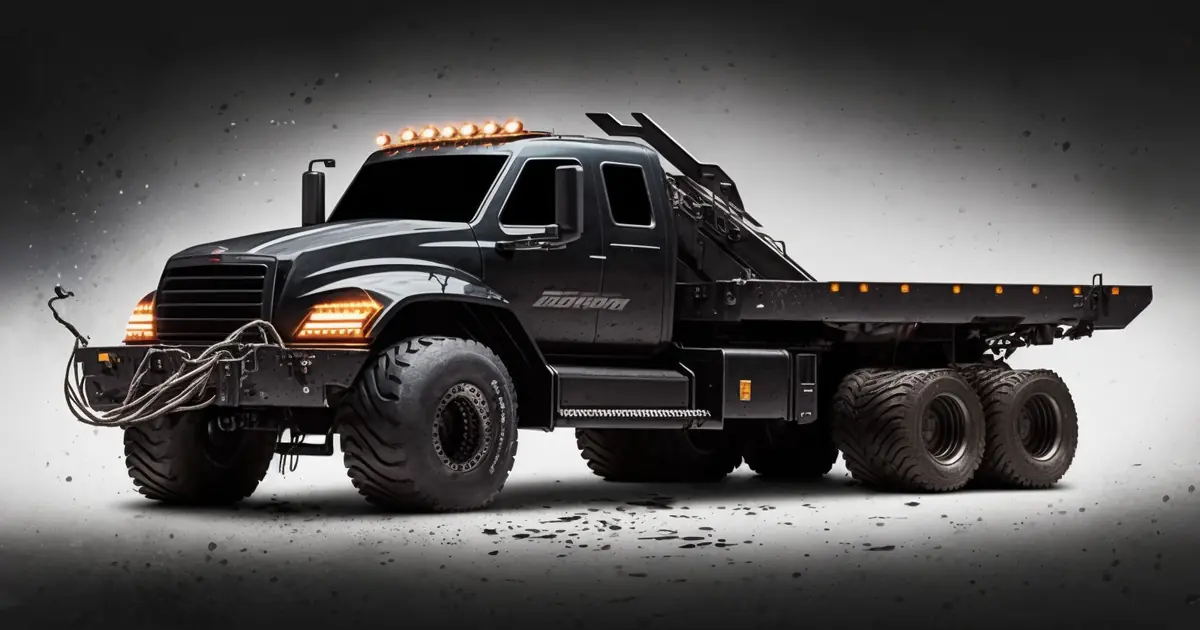 2/9/2023 Updated: 2/24/2023 | By: RC Soldier
RC Tow Truck Prices | A Full Product Review and More
We've seen some pretty creative additions to the RC hobby world over the years, and RC tow trucks are no exception. These things are just badass, and if you're a hardcore enthusiast, you probably already have one in your collection.
What's the most important aspect of an RC tow truck anyways? Well… Power. Followed by traction as a close second. With that in mind, we did an analysis of the motor and ESCs that come stock with two of the best RTR options on the market. We also added a kit tow truck that requires a lot of work, and if you like building up from scratch, it's a really cool project.
RC Tow Truck Best Buys
Tamiya 1/14 Volvo FH16 Globetrotter 750 8x4 Kit - $1,167.99
You could say that the CEN F450 isn't "technically" an RC tow truck, but it's built with such a similar platform we decided to include it. Although not built for towing other vehicles, I don't think many people would argue that the F450 was built to tow.
The TRX-6 comes with the Titan 21T 550 brushed motor, and the CEN Ford F450 comes with the Mabuchi RS-550 brushed Motor. Both motors are high-torque and brushed, which kind of makes sense for an RC tow rig. Most RC crawlers come with brushed ESCs and motors also, mainly for the added control over low RPM throttle control and higher torque ratings.
What's interesting about Mabuchi is that many of their motors are commonly used in power tools and other general purpose applications, making it an interesting choice by CEN.
Which One Has the Most Power?
So, which tow truck is the most powerful of the two? You can get a pretty solid answer by watching this freakin' awesome tug-of-war video between the TRX-6 and the CEN F450. SPOILER ALERT: The TRX-6 comes out on top.
So, you may be thinking the TRX-6 must have a more powerful motor. Actually, we did a thorough comparison of the two, and the motors are nearly identical in terms of potential power output. Each can handle up to 14.4v, and they both have a similar armature footprint. This is a prime example of how the motor isn't the only important variable in this equation. So where's the main difference?
The speed controllers and battery configuration play the main factor here. The Traxxas XL-5HV 3S ESC has high-voltage capability, which means you can throw a 3s LiPo battery at it no problem. The Hobbywing WP-1040 ESC that comes with the CEN F450 can only handle a 2s LiPo package, so it can't push the motor nearly as hard as the TRX-6.
Take a look at this graphic to get a feel for the potential power output with these to setups:
A single LiPo cell has a voltage of 3.7V. 2S means there are two LiPo cells ran in series. That means a 2S battery pack will get you 7.4V, and a 3S pack, which has 3 LiPo cells ran in series, is 11.1V and from there you can see that the math is pretty simple.
Voltage has a direct correlation with RPMs and torque, and given that each of these motors are virtually the same, it's no wonder that the TRX-6 has significantly higher power output. The most powerful RC tow truck in this case is the TRX-6, and it's obviously reflected in the price.
Although they're both a lot of fun to drive, if you're looking for power, the TRX-6 is going to give you a lot more to play with.
Which One Has the Best Traction?
Obviously, there's more to the story than just power output. The TRX-6 wins the battle in this department as well, offering full 6-wheel drive, three remote-locking diffs, portal axles, and a high/low transmission. It really is top-notch by pretty much every metric.
The CEN Ford F450 offers a dually platform with full 4wd capability, a 3-link suspension with aluminum linkage and a solid drivetrain that's no slouch. This thing could be retrofitted to be capable tow truck, but without some serious mods, it just doesn't stack up against the TRX-6.
RC Tow Trucks | Competitive Analysis and Performance Review
Price: $699.95
RTR out of the box, battery and charger sold separately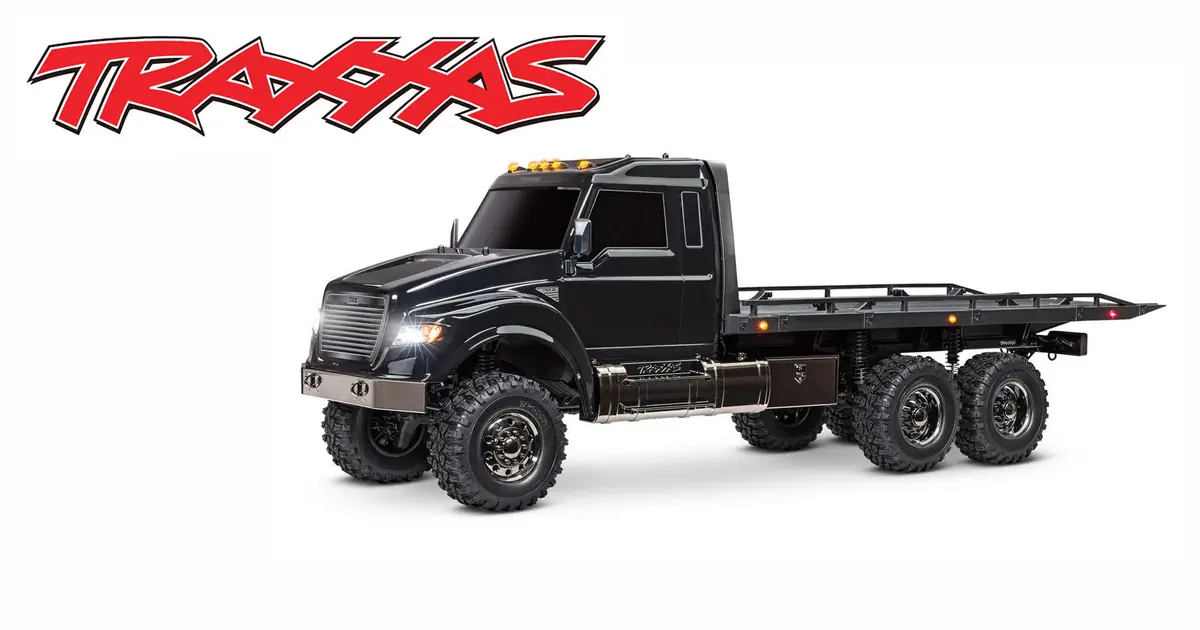 The Traxxas TRX-6 flatbed RC tow truck dominates our line-up. It comes equipped with all the cool gear you'd expect with a tow truck, and has enough power and speed to tear up some dirt. It also comes fully assembled, saving you a lot of trouble. Even the LED light system is pre-wired.
The price is a bit higher than the CEN F450, but let's think about what you're getting in return: an advanced traction system and a higher voltage electronics configuration. For the extra $280 bucks, you're getting a whole lot more truck!
We gave a lot of details about the TRX-6 in our comparison above, so we'll spare you the details and just give you the main features that come included out of the box.
Traxxas TRX-6 | Features
Based on the extremely capable Traxxas TRX-6 chassis
Large rear flat bed fits the Traxxas 4-Tec chassis perfectly
Adjustable wheel chocks and tie-downs keep your cargo in place
Pre-wired LED light system
Detailed body and body accessories
Powered by a Titan 21T 550 brushed motor and XL-5 HV ESC
Extended 30"steel frame rails
Portal axles for extended ground clearance
Full-time shaft driven 6-wheel drive
Aluminum GTS shocks come oil filled for out of the box performance
Two speed high-low transmission
Chassis Mount 2075X servo
2.2" Canyon RT All-Terrain Tires are mounted to 2.2" Big Rig Wheels
Includes TQi 2.4GHz 4-channel transmitter
Traxxas TRX-6 | Specs
Length:

Overall: 37.5 inches (953 mm)
Chassis: 34.0 inches (863 mm)

Track Width:

Front: 9.8 inches (245 mm)
Rear: 9.8 inches (249 mm)

Ground Clearance: 3.14 inches (80 mm)
Weight: 10.7 pounds (4.83 kg)
Overall Height: 11.9 inches (303 mm)
Wheelbase:

Front - Intermediate Axle: 18.6 inches (471 mm)
Front - Rear Most Axle: 23.7 inches (603 mm)

Approach Angle: 60°
Departure Angle: 55°
Breakover Angle: 57°
Shock Length: 3.54 inches (90 mm)
Battery Tray: 158.75x47x23/26mm (LxWxH)
Hex Size: 12 mm
Gear Pitch: 32P
Chassis Structure / Material: Steel Ladder Frame with Nylon Composite Crossmembers
Brake Type: Electronic "Hill Hold"
Drive System: Shaft-Driven 6WD
If you decide to purchase the TRX-6, you'll need a battery and charger. The Traxxas completer battery pack ($114.95) is the quickest and most cost effective way to get up and running.
See the Traxxas TRX-6 Hauler
Price: $419.99
RTR out of the box, battery and charger sold separately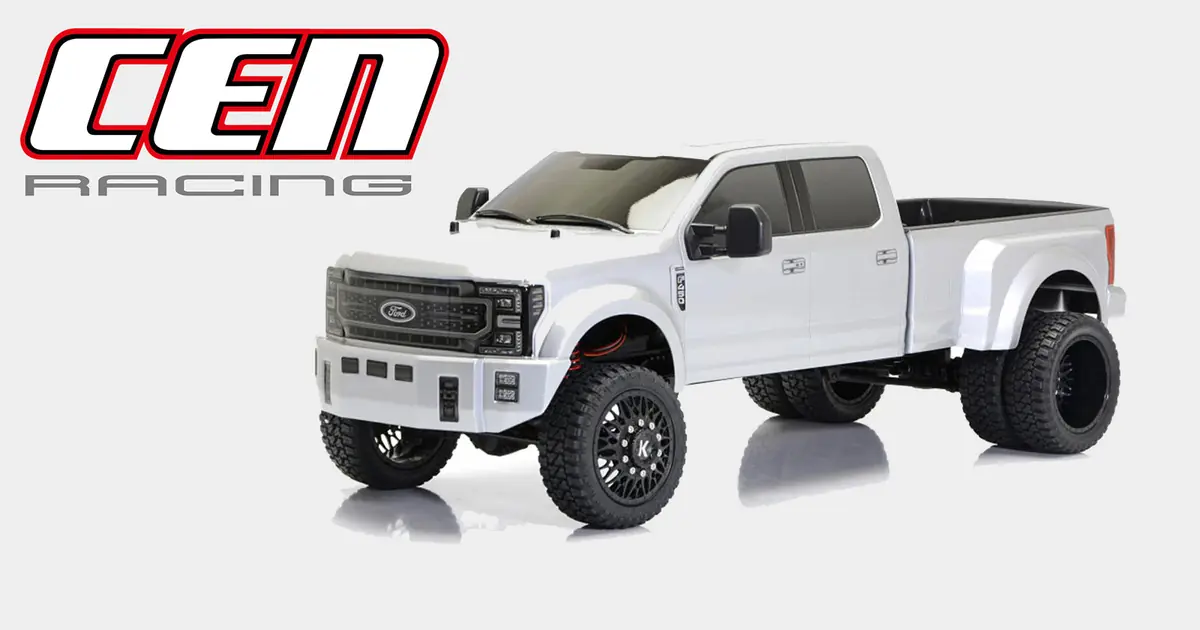 Firstly, we wanted to show you a really cool video of the CEN F450 converted to an RC tow truck (in case you thought we were blowing smoke):
The CEN F450 is a tough truck that's built for rugged durability, looks, and fun. It comes pre-assembled, and is ready to go as soon as you install a charged up battery.
As we mentioned in our comparison, the low voltage ESC and 2S LiPo batteries simply don't equate to the same power as the TRX-6. That being said, this is a really fun truck to drive, and the speed will still probably surprise you.
If you felt so inclined, you could easily upgrade the speed control to one with high-voltage capability. In fact, the Traxxas XL-5HV 3S used in the TRX-6 should be a great fit considering that the brushed motors have nearly identical specs. You'll need 3S batteries with Traxxas connectors if you decide to go this route.
Either way, you're going to love this truck.
CEN Ford F450 | Features
SC-40A WP-1040-Brushed ESC (Powered by HobbyWing)
Automatic throttle range calibration
Motor-RS-550 high Torque Motor (Power By Mabuchi Motor)
4.8V 0.26 sec/60deg 10.0 kg-cm
6.0V 0.23 sec/60deg 12.0 kg-cm
25T Horn Gear Spline
High Torque Servo Horn Saver
3 Links Suspension with Panhard Bar Design
4 Wheel Drive (6 if you count dually)
Center Shaft Drive Train for more power transferred to the wheels
Highly Efficient Transmission System
5mm Hardened Steel Axle shaft
6mm Aluminum Linkage
Differential Center Locker Front/Rear Planetary Gear Type
Metal Transmission Gears
Planetary Gear type Differential
CEN Ford F450 | Specs
Length: 26.70inch (678.18mm)
Width: 11.41inch (290mm)
Wheelbase: 17.60inch (447mm)
Ground Clearance: 2.52inch (64mm)
Weight: 5.51 lb. (2.5kg)
Battery: 2s Lipo recommended
You'll need a LiPo 2s battery ($37.99) as well as a battery charger ($29.99).
See the CEN Ford F450 RC Truck
Price: $1,167.99
Kit truck. Will require many parts and lots of elbow grease!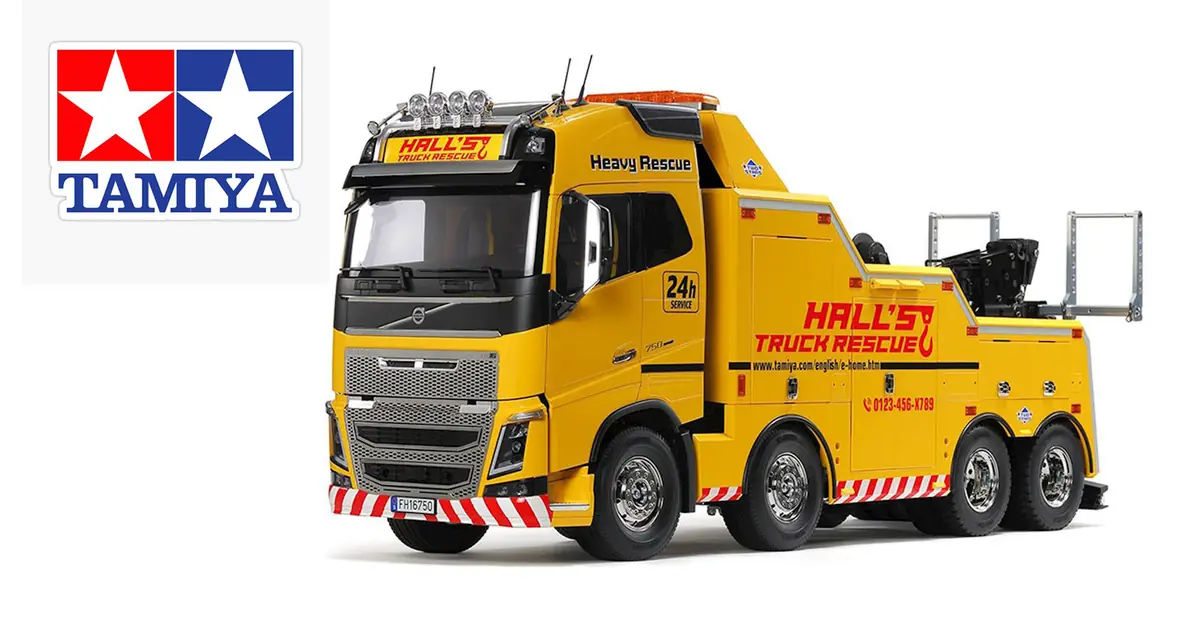 This RC tow truck is geared more for hardcore enthusiasts who are looking for an awesome project to embark upon. Here at RC Soldier, we're all about full transparency, and we'll let you know straight up we've never build or driven this truck. In fact, we couldn't even find anyone else that has.
So, if you do decide to do a build on it, please let us know! We'd love to feature some pictures and check out the end result.
That being said, we did notice that the FH16 comes with some novel features that sound really cool, such as the twin steering system on the front axles. Based on the research we were able to do, this tow truck needs a lot. We's plan on having around $2,000 at the ready if you want to complete this build.
Tamiya FH16 Globetrotter | Features
1/14 scale remote control model building kit.
Boasts an intricately molded plastic cab with etched front grille and intricate interior details.
This model is equipped with a pioneering twin steering system on the front axles, a first in the Tamiya 1/14 Truck series.
Made with sturdy metal components for enhanced durability.
Enhance its actions with the separately available Actuator Set (Item 56553), which can be controlled using your remote control transmitter.
Features a ladder frame with aluminum side channels and resin cross members, and power from the front motor is transmitted to the two rear axles through a propeller shaft.
Each axle is equipped with a built-in differential gear for smooth maneuvering.
The realistic suspension system features metal leaf springs and friction dampers.
Effortless driving is achieved through the float-mounted die-cast front and reinforced resin rear axles.
Shift gears with ease using the three-speed transmission, which can be controlled via your remote control transmitter (note: only one gear is usable when towing).
Illuminate the headlights and taillights with separately sold LEDs and add the Tractor Truck Multi-Function Control Unit "Euro-Style" (MFC-03) (TAM56523 - not included) for added functionality.
Compatible with TROP truck option parts: TAM56523, TAM56531, TAM56538, TAM56548, TAM56549, TAM56550, TAM56551, TAM56553
Equipped with oil-filled shock dampers for smoother rides.
Suitable for on-road terrain use.
Tamiya FH16 Globetrotter | Specs
Length: 750mm
Width: 195mm
Height: 300mm
Adjustable Gear Ratio: Yes
Bearings: Metal bearings and bronze bushings
Body Material: ABS Plastic
Body Stickers: Included
Chassis Material: Aluminum and ABS plastic
Chassis Type: Semi-Truck
Construction Type: Assembly Kit
Differential Type: Gear
Drive Type: 2WD
Motor Brushed: 540 Type
You'll need the Tamiya 2.4GhZ r-channel radio ($254.99) system and the Tamiya Actuator Set ($292.00) to complete the towing rig pully system.
You'll also need 2 servos, an ESC, a 7.2volt battery with compatible charger, and Tamiya TS spray and Acrylic bottle paints
See the Tamiya FH16 Tow Truck
---
Hopefully you found this article helpful! If you'd like to know more about RC Cars, RC Boats, or Drones, check out our blog, or utilize the search feature at the top of the window.

This post may contain products from our affiliates, and we'll be compensated if you buy after clicking a link. It's how we grow our business and offer you great content!