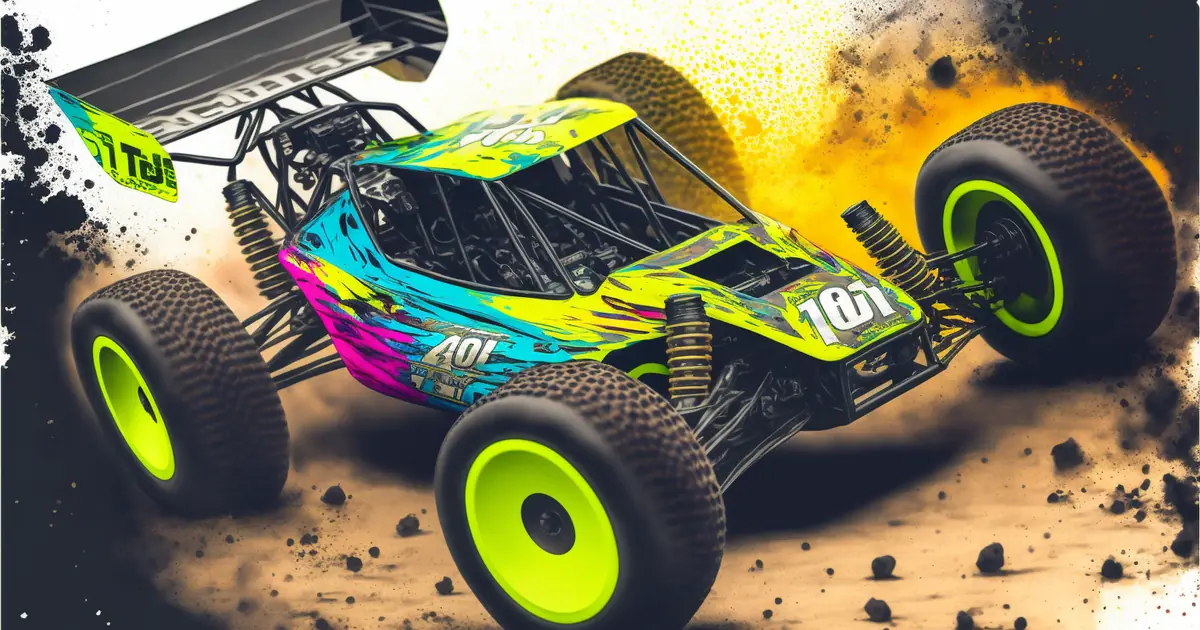 1/7/2023 Updated: 2/17/2023 | By: RC Soldier
RC Car Racing | A Popular Hobby That's on the Rise
RC car racing, and RC hobbies in general, are on the rise. To find out trends in todays world, we just follow the money, and according to the smart people at Research and Markets, the RC car segment is anticipated to garner the highest revenue of nearly USD 2,800 million by the end of 2031. That's 2.8 billon dollars folks.
With this kind of popularity, it's no wonder that RC car tracks seem to be springing up everywhere. But some people are still leary, thinking perhaps that RC car racing is a little nerdy for their taste.
Well.. This couldn't be further from the truth! In all honesty, I can't say I've ever met someone who didn't enjoy RC car racing after they gave it a shot.
The Challenging World of RC Car Racing
If you're a fan of fast-paced competition that's challenging and always a good time, then RC car racing might just be the perfect hobby for you.
If you've never seen a race, it's mostly what you'd expect. RC cars zip around elaborate tracks, reaching speeds anywhere from 20-70 MPH depending on the class, as they navigate tight turns, obstacles, and jumps. But unless you've participated in a race yourself, it's impossible to see just how fun it really is.
The sport has a fairly low barrier to entry. With as little as $300 bucks, you can get a really fast RC car such as the Traxxas Bandit. It may not be the baddest car on the track, but it's enough to get your feet wet and see if it's something you'd like to take a little more seriously in the future.
Off Road 1/10 Scale RC Buggy Race
Why RC Car Racing Will Change Your Life (For the Better!)
RC car racing is fun, exciting, and healthy way to spend your free time; and you'll meet some great people!
As you improve your skills and advance through the ranks, you'll experience a sense of accomplishment and satisfaction. I've always enjoyed challenging myself, and it's really cool to overcome the technical learning curve involved in competitive racing.
The benefits of don't stop there. This hobby is also a great way to meet new people and make new friends. Many racers form tight-knit communities, where they can share tips, tricks, and advice with one another.
With events and competitions taking place all over the country, you'll have the opportunity to travel and see new places while doing something you love. This is a huge perk for me, because I love to travel. When taking a trip, it's like having a journey within a journey, and you always leave with some new connections.
Getting Started in RC Car Racing
If you're interested in trying RC car racing, but you're not sure where to start. Don't worry - it's easier than you might think!
First and foremost, you'll need to invest in a high-quality RC car. These can be purchased at hobby stores, online retailers, or directly from the manufacturer. It's important to do your research and choose a car that is well-suited to your desires and budget.
The main classes for racing RC cars are as follow:
Off-Road Electric
Off-Road Gas (Also called nitro RC)
Street Electric
Street Gas
Drifting (Pretty much electric only at this time)
Types of Cars and Races
Off-road tracks are the most common, and represents the majority of tracks that you'll find. Here's an example off-road track with some nice doubles and table-tops:
Image: RC Car Hobbyist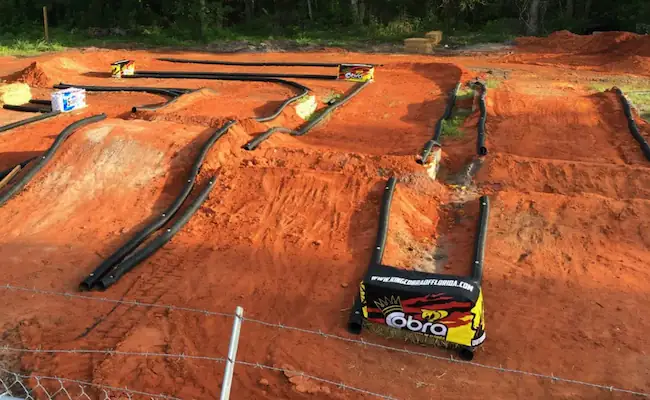 The most popular class of racing is 1:10 scale off-road buggy racing. Some may argue this fact, but in general it holds true. There's simply more race classes for this scale than any other.
For many years nitro gas powered cars were slightly more popular among advanced racers. Nowadays, however, electric seems to be dominating the race scene. This is probably due to the advancements made in batteries and other electronic components.
There are many different sub-niches found within each scale, and many different classes of skill found in each sub-niche. Your own experience and preference will determine where you end up fitting in. Once you get a taste of the race scene, it won't take long.
The most popular scales of racing are generally ordered as follows:
1:10 Scale (Off-road, On-Road, Drifting, No-Prep Drag Racing)
1:8 Scale (Off-road, On-Road)
1:5 Scale (Off-road, On-Road)
You can see these classes broken down in more detail, as well as RC race reports, at the AMain Tracks Directory page, a really helpful resource if you're looking to enter the game or are already involved.
Aside from your backyard, you'll want to find a place to race. Many cities and towns have multiple tracks where you can practice and compete with other racers.
Some tracks even offer beginner classes and instructional sessions, so you can learn the ropes before hitting the track.
Tips for Success
Now that you're all set to race, it's time to start thinking about strategy. While luck and chance can certainly play a role in the outcome of a race, there are steps you can take to increase your chances of victory. Here are a few tips to keep in mind as you embark on your RC car racing journey:
Practice, practice, practice. The more you race, the better you'll become. So make sure to set aside time each week to hit the track and hone your skills.
Stay up to date on the latest technology. The world of RC car racing is constantly evolving, and staying on top of the latest developments can give you an edge over the competition.
Don't be afraid to ask for help. If you're feeling stuck or overwhelmed, don't hesitate to reach out to more experienced racers for guidance. There's a strong sense of community, and most people are happy to lend a helping hand.
Tips for Maintaining Your RC Car
In order to perform at your best on the track, it's important to keep your RC car in top shape. Here are a few tips for maintaining your car and keeping it running smoothly:
Follow the manufacturer's recommended specs when it comes to replacement parts and maintenance.
Keep your car clean. Dirt and debris can accumulate on your car's parts and cause damage over time. Make sure to regularly clean and inspect your RC car to ensure the best performance and increase longevity.
Conclusion
If you're ready to test your skill at the next level, then it might be time to start thinking about entering competitive events. These events, which can range from local club races to international competitions, offer a chance to test your skills against the best in the business.
But don't let the pressure of competition get to you. Remember that the most important thing is to have fun and enjoy the experience. Whether you're racing for the first time or you're a seasoned pro, the thrill of victory is what it's all about.
So why wait? Get out there and start racing! The world of RC car racing is waiting for you.
---
Hopefully you found this article helpful! If you'd like to know more about RC Cars, RC Boats, or Drones, check out our blog, or utilize the search feature at the top of the window.

This post may contain products from our affiliates, and we'll be compensated if you buy after clicking a link. It's how we grow our business and offer you great content!